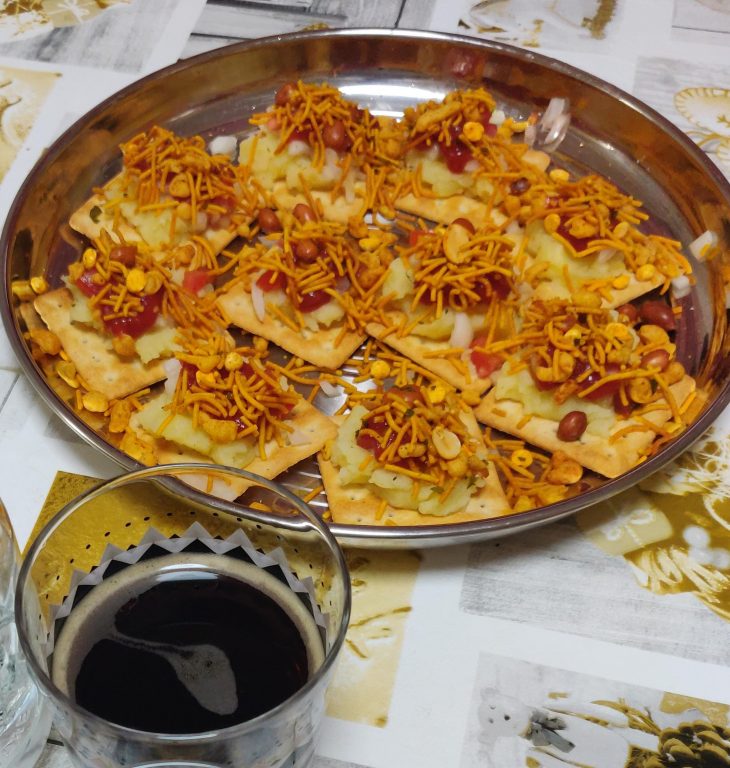 If the snacks are delicious enough, no matter the occasion, they can be enjoyed with all kinds of drinks. It is safe to say that since ages, snacks have been an important part and complete any kind of gathering, be it with friends or family.
Therefore, today you will learn how to make some delicious savoury snacks with an Indian touch, for when you have someone coming over.
Ingredients:
1 onion
2 small tomatoes
4 potatoes
Spices like back pepper, chili flakes/powder, garlic powder
1-2 packets of noodles
Pack of cracker biscuits (Voileipäkeksi)
Coriander leaves
Pack of roasted peanuts
Tomato Ketchup
Yoghurt (optional)
Steps:
Boil, peel and then mash the potatoes, to be later used as a filling.
Cut the tomatoes and onions in very small pieces.
Prepare the noodle mixture by crushing the noodles.
Add roasted peanuts to this mixture and add spices like black pepper, garlic powder, chili flakes/ powder, according to taste.
Make sure the ingredients are properly mixed
Take a cracker biscuit and cover it with the mashed potatoes.
Add some of the prepared noodle mixture on top of it.
(Optional) Pour some yoghurt in a bowl and mix everything in it.
Garnish with some coriander leaves
Your "chaat" is ready to be enjoyed with some drinks on the side in a company of friends.
Latest posts by Prakhar Sharma (see all)