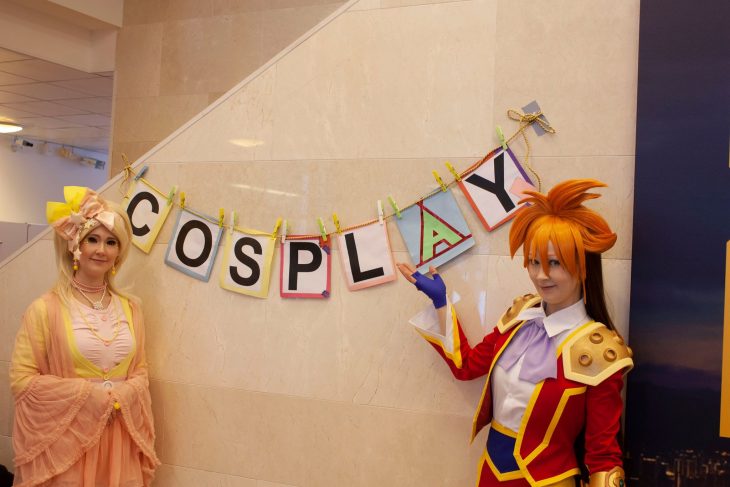 Are you currently looking for a new hobby? Last Wednesday, on the 23. of January there was an event in the entrance hall where several activity groups presented their associations, groups or activities.
The biggest eyecatcher of the event was Paivi, a fashion & costume student at XAMK. She presented the performance art Cosplay, the art of dressing yourself as your favorite movie, comic, videogame or tv show character. Since 2009 she is active in the Cosplay Scene and creating, sewing, designing from two to three costumes per year. On Wednesday she was dressed up as Julia Fernandez, one of her favorite characters. Her reason to be representative of Cosplay on that day was not only to enforce people to participate in the Cosplay Scene but also to get everyone more familiar with this fascinating hobby of her. If you are interested in joining there can almost every month a convention in Finland be found. The Cosplay Community is always happy to see new faces.
Her sister, Satu, presented the group "Street Fashion Finland". That group is active since 2017 and was founded to share and experience the hobby of creating and expressing individual styles together. There are annual meet ups where you can get in touch with the people that share the interest in clothing and creating unique. On their blog https://streetfashionfinland.blogspot.com/ you can find all the information about meetings as well as practical do-it-yourself tips and they are also active on snapchat, Twitter, Instagram, Facebook and Youtube.
If you are just looking for a group of women that meet several times per year the group "Into Martat" will be the perfect group for you. From doing sports, dancing together to creating green smoothies – there are activities for everyone. The annual fee is 40€ and if you are interested in joining them you can attend their first meeting in February where you will decide together with the other team members which actions will happen in 2019! To stay update about meetings you can join their Facebook group "Intomartat ry, Kouvola".
In case you are looking for a new sport: at the local basketball team Kouvot has a special offer at the moment, for 60€ instead of 100€ you can participate in the team until the end of May as well as visit a basketball game. No matter if your basketball skills are advanced or if you are completely new to it – they are always happy to welcome new members who like to throw some balls. More information can be found on their homepage www.kouvot.fi.
The new Campus Chaplain Aino Laine was also present. She wanted to show the activities she offers for young adults: every Thursday they meet at 8 in the evening behind the main church in Kouvola to have some fun together and talk about daily topics but also sometimes read the bible or discuss some topics related to it. Regardless of your confession you are more than welcome to join the conversations. To stay updated you can follow their Instagram profile: @kvlsrk as well as their Facebook page "Kouvolan srk:n nuoret". Aino Laine is also happy to welcome you every Tuesday and Thursday at her office in room 304 at Xamk or around the campus.
Text and picture: Lena Gelfert
Latest posts by Lena Gelfert (see all)