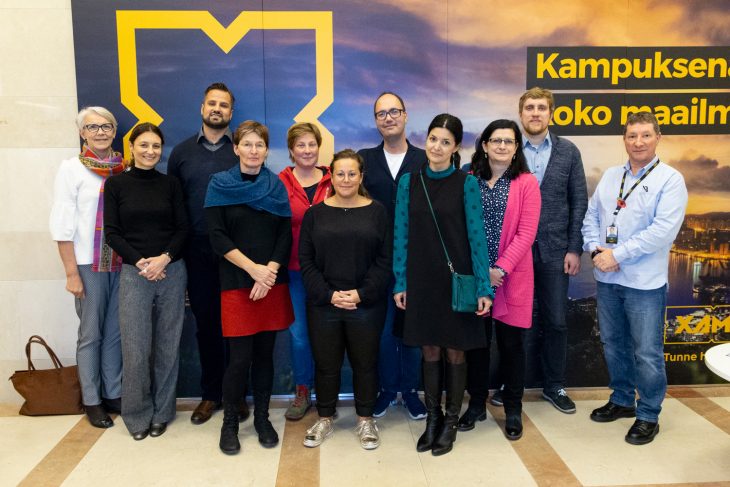 IB&M Network Discussions Days Kouvola Campus 12-13.11.2018
At the start of the combined Global Entrepreneurship Week and International Week, there were meetings with partners of the International Business & Management university partner network (IB&M), hosted by Marja-Liisa Neuvonen-Rauhala of Xamk. In case you haven't heard of the IB&M network, it consists, at present, of our education partners from Croatia (University of Rijeka), France (University Claude Bernard Lyon 1), Germany (Jade Hochschule), and Netherlands (NHL Stenden University of Applied Sciences).
The network was set up many years ago, with the intention of increasing exchange opportunities for Business students of all the partners, through matching curriculums and Ersamus mobility. In addition to this, there has been the added-value of intensive study weeks and short projects that students can carry out at the partner institutions without having to study abroad for 1-2 semesters.
During the meetings it was discussed how the cooperation between the various partners has been performing and how exchange practices have worked – both for students and lecturers. In addition to this, there have been discussions related to expanding the network to other partners that would give extra benefit to the current network, and in particular, our students. The discussions continued into the evenings with dinner at Hotel Vaakuuna in Kouvola on Monday, and a wonderful visit to Tykkimäki sauna and snacks at Käyrälampi lake on Tuesday evening, with several German students from Jade joining in. Even though it was only +4C, most participants at least tried a dip in the lake between sauna sessions and all had a great time.
Currently, there are various short-term workshop projects happening at each university, each year that students of each partner can participate. These workshops range from cultural visits to company analysis and presentations. Many students have reported the benefits of participation is such intensive weeks – for studies and enjoyment.
It is hoped that over the coming months, Insider will bring you various articles and reports from the IB&M network partners and their activities, in particular, we will be keeping you informed of these special intensive weeks and the projects that you can participate in.
Hugh Clack, Senior Lecturer
Insider Editor in Chief
In the group photo, from left to right: Ulla Puustelli (XAMK), Laurence Collaud (Lyon 1), Tomislav Galović (Rijeka), Christina Hans (Jade), Kim Sutton (Jade), Tiphanie Rolland (Lyon 1), Peter De Boer (NHL Stenden), Sara Czabai (XAMK), Marja-Liisa Neuvonen-Rauhala (XAMK), Mikhail Nemilentsev (XAMK), Hugh Clack (XAMK). Group photo credit: Marika Taina

Latest posts by Hugh Clack Editor in Chief (see all)