The Predator or Stop Screwing Up Classics
Director: Shane Black
Written by Fred Dekker, Shane Black
Starring: Boyd Holbrook, Trevante Rhodes, Olivia Munn
Budget: $88 mln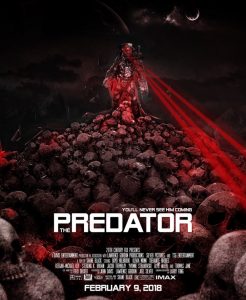 If you consider yourself a horror movie fan, then you've definitely seen The Predator. The old one. You have also seen The Alien and their crossover. Leaving dwelling on the past aside, let's just say that horror movies were much better back then. As Russians say, "grass was greener, and birds sang louder".
Nevertheless, we have another film about The Predator, one of the iconic characters of the genre, alongside with Freddy Krueger and the aforementioned Alien. Long story short, this movie sucks. The plot and its stupidity is over the roof, the camera is not as good as we would like it to be, and dialogs… Your forehead will probably be red because of the amount of facepalms you will have over the course of the movie.
Boyd Holbrook played a bad guy in Logan, and Olivia Munn played a bad-turned-good girl in X-Men Apocalypse. Insider crew loves X-Men universe and it was interesting to see how these two actors perform in a horror movie. Well, the film itself is so bad that you can't really see the way these guys act. It's like they don't.
A few words about the positive sides of the movie: there are none. Congratulations, The Predator, you are the 2nd nomination for Insider's "Worst movie of the year" after The Red Sparrow (Jennifer Lawrence, also known as Mystique from X-Men, has a leading role there, hmm).
If you really want to see this movie, just don't. It's disgusting.
Latest posts by Nikita Munenko (see all)