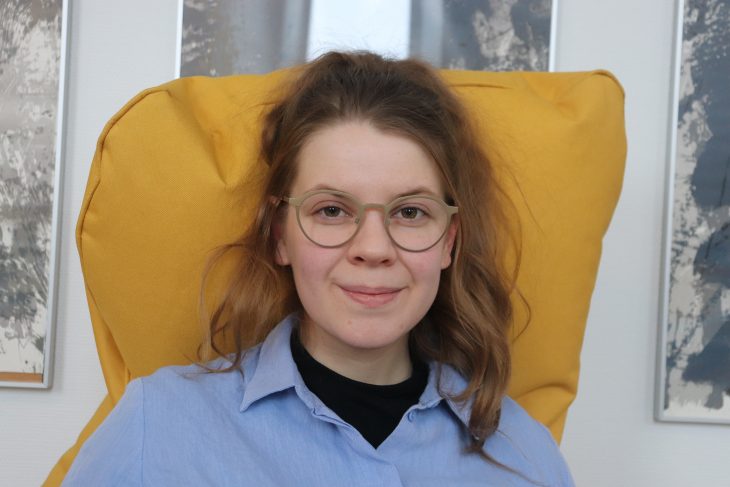 What is your name and where are you from? My name is Heini Korhonen. I was born in Helsinki, and have spent about half of my life around there & the other half in various places in the US. The last place I lived and studied at before Kouvola was Rhode Island. I've moved around a lot, so home has always been more of a concept than a place for me.
What do you study at Xamk? At Xamk I study restoration. Restoration/conservation is such an exciting world to dive into, and I'm excited to constantly learn about new techniques, materials, and histories.
How many countries have you visited? I've visited nine countries as an adult (USA, Canada, Estonia, Denmark, Germany, France, Switzerland, Italy, and Iceland). I also had a layover in Dublin last summer and rushed out of the airport to visit the botanical gardens – does that count? Maybe not, but it was beautiful nevertheless.
How many languages do you speak? I am fluent in Finnish and English, and am working on my French and Swedish. I'm always eager to learn more about new languages and cultures and do my best to learn at least some basics when I visit a new place.
What are your passions? I am passionate about the sound & smell of the ocean, kind dogs, little green things growing, golden light and soft shadows, art, words, and dreams. I am also passionate about history, memory, and people's varying ideas of "home", which is probably why I'm so interested in caring for old objects and artefacts too. Every 'thing' has its own story!
Who inspires you the most? I am most inspired by the passionate, creative, imaginative women who came before me and were, for some reason or another, kept from achieving their dreams. My mother, my grandmother, and my great grandmother are my biggest guides and muses! There are lots of photographs and notes left behind that I love looking through. They make me feel connected through time and inspire me to work towards a better future.
What is your favorite meal? My favourite meal is any variety of little snacks friends have brought to share on a picnic by the sea. Also, what I would give for a good steaming hot tamale these days! If you plan on making some, please find me.
Give us 3 tips about how to cope in the Finnish Winter?
A. Gather some plants around you to remind yourself of the concept of 'leaves'
If you are feeling very cold, take deep breaths, close your eyes, and imagine yourself under warm sun.
Layers layers layers! Socks on socks and pants on pants and shirts on shirts! One hat is usually enough unless you are fashionable and choose to fold it so it doesn't reach your ears.
Where is your most favorite place on Campus? I do like that there are plenty of quiet study spots around, especially in the main building. There is also a classroom with a piano that I sometime sneak in to play.

Latest posts by Elizabeth Akinlabi
(see all)