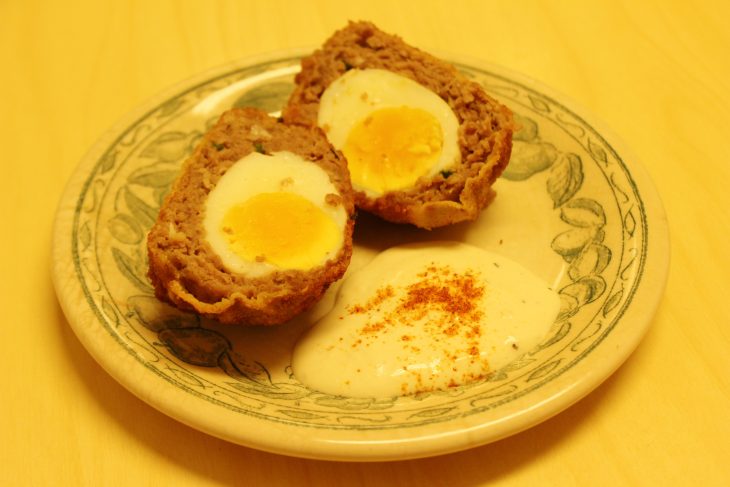 Scotch eggs are one of the most popular picnic food items in the United Kingdom. They are said to be originated from as early as the 1730s; and have had numerous variations around Europe ever since. This traditional version is the ultimate comfort food in this chilly weather, or whenever you suddenly crave some yolky, meaty and flavorful egg-balls.
Ingredients:
2 eggs
1 cup ground pork (or any ground meat of your choice)
¼ teaspoon garlic powder
a pinch of salt
a shake of cayenne powder
1 beaten egg
all purpose flour & breadcrumbs
Instruction:
Fill up a pot with enough water to cover half the eggs, put the lid on and steam for exactly 6 minutes if you want them soft-boiled, add 2 more minutes for hard-boiled.
After boiling, run the eggs under cold water for 15 seconds for easier peeling.
In a bowl, combine ground pork, salt, garlic powder and cayenne together. Spread it out on a piece of plastic wrap as evenly as possible, about 0,5 cm thick. Divide into two.
Prepare flour, beaten egg and breadcrumbs in separated bowls/plates.
With damp hands, carefully wrap the meat around the eggs until it's completely sealed. This could be tricky, but if the eggs were properly boiled and your hands are damp (not wet!), you can do it.
Cover the eggs with flour, egg and breadcrumbs respectively, using the dry hand-wet hand method. This basically means you use one hand to touch the egg, and the other for flour and breadcrumbs. Thus, a way less messy process.
Fry the eggs for 6 minutes or until golden. Serve them with aioli or any sauce you fancy. I originally wanted a molten yolk, but accidentally left the egg in for too long so the result wasn't as expected (as seen in the picture), but it still tastes heavenly.
Hope you enjoy this week's recipe!

International Business student at XAMK