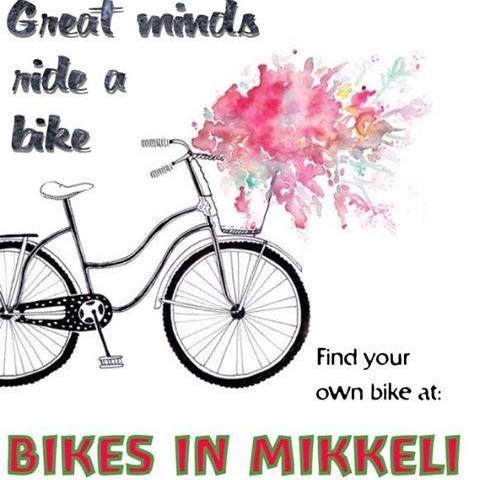 Have you ever struggled with the purchasing or selling the bike in Mikkeli? Do you know where to wash your bike? Do you know when the police sell lost bikes? Suffer no more, the group of XAMK students launched a project – Bikes in Mikkeli – which aims to help people find lovely transportation for the daily purposes, all necessary details to it as well as provide the relevant information you need to know to have a bike in Mikkeli.
Police confiscation and lost bikes, hidden market, second-hand bikes, unique sales – these all you can find on their Facebook page «Bikes in Mikkeli». If you need a bike – you will find one. If you already have one – take accessories (winter is coming, lights are needed!).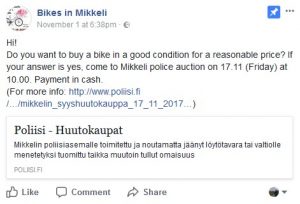 Why is it needed you might ask?
– Exchange students need bikes for 4 months and they need somehow sell it afterward
– Newcomers to the city can get the idea what the bike mood exists in the city
– You can find all necessary information, contacts, details to your bike, bikes itself, tips and lifehacks and so on.
Bikes in Mikkeli – not just a simple service for you, it is promised to grow into a community for bike lovers in Mikkeli. The project is just started, so more people are interested, better outcome we can expect.

Latest posts by Daria Chekalskaia (see all)