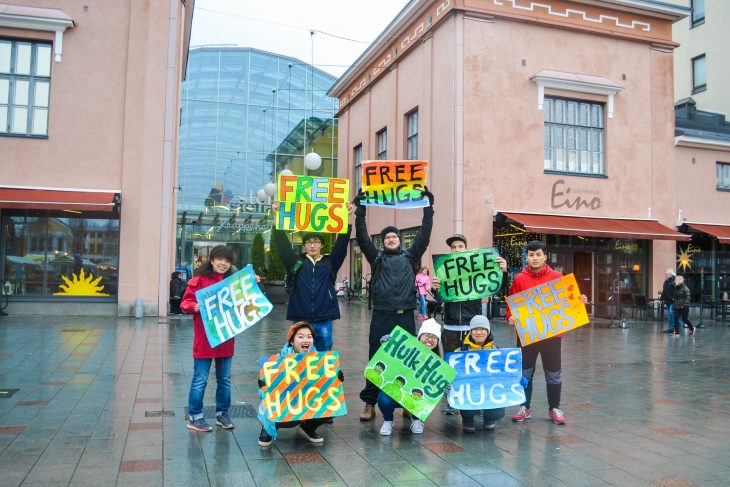 On the cloudy and rainy morning of last Saturday, a group of XAMK students arranged a flash mob called "Hulk Hugs". During the even the participants offered their smiles, hugs, and good vibes to strangers.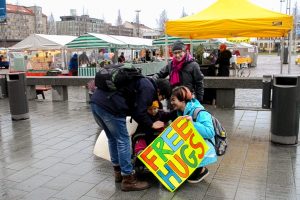 The organizers are XAMK international students: Hoa Le, Kanako Yamashita, Yiming Peng, Linh Nguyen, and 7 more volunteers. Despite a stereotype of shy and introverted nature of Finnish people, the students decided to lighten up gloomy November morning with free hugs. According to Linh, the aim of Hulk Hugs was just spread love, friendliness, and positive mood to people around.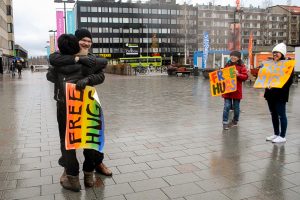 The organizers' team include members from Japan, Vietnam, and China. Most of them have taken part in such event for a first-time. Despite a cultural diversity and different attitude to hugs and personal space, there were, even more, participants than expected.
For some passersby, hug with strangers was way too far from their comfort zone; so, they walk as fast as they can to avoid eye contact. Fortunately, there were a lot of people joined and hugged with Hulk Hugs team. The passersby were very cheerful for such new experience and said something like 'wonderful', 'beautiful', and positive comments in Finnish.
Hoa, one of the organizers told, that a stranger asked her about a purpose of the event. "Just to make you happy" she replied, and he said "Well, you made it then! Thank you!"

Latest posts by Anastasiia Abgarian (see all)