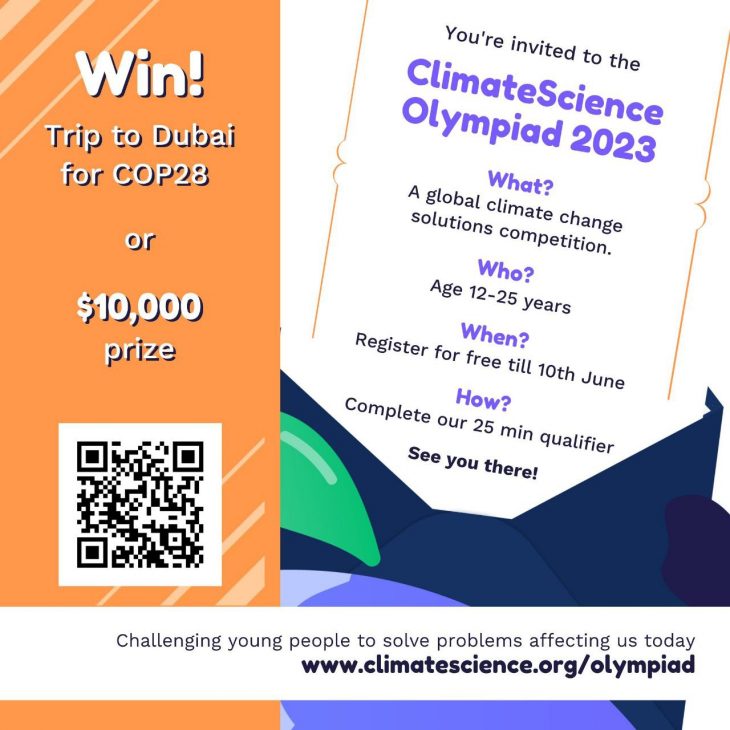 Calling for Future Change-Makers: Join Climate Science Olympiad 2023
The ClimateScience Olympiad (CSO) is an international competition exposing students to solving the world's most challenging, real climate problems. This is an incredible opportunity to deepen your understanding of the science behind climate change, connect with a dynamic community of participants, and compete for the chance to win a fully-sponsored trip to Dubai for COP28!
Besides the opportunity to go to the COP28 you also can benefit from:
$10 000 prize pool distributed among the top 10 participants
practicing skills that climate professionals use every day: from finding reliable information on climate change in scientific literature to solving case studies and writing project proposals
networking on Olympiad's Discord server with more than 4000 participants
educational opportunities provided by Olympiad Team which includes 12 visual, fun, easy-to-understand courses on Climate change causes, Adaptations, Food & Farming, Climate Politics and Economics, Clean Energy and other topics
interesting side events such as interactive discussions and Ethic Bowls on climate topics, preparation rounds on Kahoot, storytelling contests, making climate pledges for the year and many more
official certificates of participation in each of four Olympiad's stages to boost your CV
Are you excited to join and bring your ideas to tackle the climate crisis? Good news! The 2023 Olympiad season is already underway, and here you can find all the details about the Olympiad structure and some useful tips to help you prepare.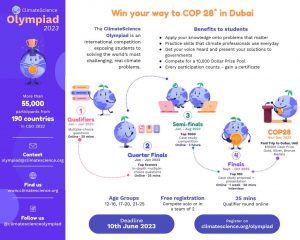 How is the Olympiad organized? 
This year's Olympiad spans from January through November-December, and features four distinct stages: the qualifier, quarterfinals, semifinals, and finals. You can participate in one of the age brackets – <16, 17-20, or 21-25 – either individually or in teams of two. If you decide to compete as a team, your age group is determined by the age of the older member. Registration deadline is the 10th of June, but qualifiers are already open so you can take one right now.
Qualifier: Qualifier round is a 25-minute online quiz, it closes on 10th of June. You are asked to answer 10 multiple choice questions and if you get 8 or more answers correct in the Qualifiers you will move to the Quarter Finals. The best way to improve your chances is by practicing on Olympiad's quiz app available for free where you may even find questions that appear in the CS Olympiad Qualifiers. You can attempt the Qualifier up to 3 times or take part in a referral program to get 1 additional attempt per person you refer.
Quarter Finals: The Quarter Finals round is a 25-minute online quiz, it closes on 15th of June. You will be asked to answer 15 in-depth multiple choice questions and if you get 13 or more answers correct in the Quarter Finals you will move to the Semi Finals. The best way to prepare is by completing courses offered by the Olympiad Team as well as practicing on the ClimateScience Quiz App. You will get 1 attempt for every successful Qualifier attempt. This means if you don't succeed at the Quarter finals on your first attempt, you can use any other Qualifier attempts to try again.
Semi Finals: The Semi Finals opens in June and will happen every first Sunday of each month namely 4th June, 2nd July and 6th August.
The Semi Finals will focus on three key themes corresponding to 9 topics:
Energy – Clean Energy, Sustainable Transport, industry
Development – Sustainable Development, Sustainable Economics, Circular Economy
Natural Systems – Sustainable Agriculture, Biodiversity, Water Resources
You receive a complex problem set based on one of the themes mentioned above and have to write a 1000 word proposal in 3 hours that is socially equitable, realistic, economically feasible and rapidly implementable. Internet search is allowed.
Finals: You receive a complex global problem and have to write a 3000 word proposal aiming to solve the problem at hand. Then you present their solution in a 20 minute presentation judged by world-leading scientists, innovators and policy-makers. Every Finalist is awarded a Bronze Medal certificate, the top 20 and top 10 will be awarded a Silver and Gold Medal certificate, respectively
Useful tips:
Try to find a teammate! You have a very limited time during Qualifiers and Quarter Finals, but it is especially true for the Semi Finals, where you have only three hours to research the case topic and write a comprehensive, scientifically based and implementable solution. You can divide up the tasks, explore different sides of the question and save time when writing your answer
Download a quiz app and try to answer practice questions, you can really find them in Qualifiers and Quarter Finals! You can choose the most interesting question sets and your teammate can do the same. As a result you can cover more questions and then take Qualifiers and Quarter Finals together.
Use additional resources provided in Olympiad's online courses to deepen your knowledge and get a more complete picture of a particular problem and how to solve it
Be on the agenda, looking on climate initiatives and projects in your country and all around the world can help to come up with your own ideas
To find more information and take part in the competition you can visit the official website.
Wish you good luck in the Olympiad! 
Daria Chekalskaia,
Production Assistant, Edufication.com
Environmental Engineer
Xamk is involved in Talent Boost work, aiming to advance employment and attachment of international talents to Finland. For more information, do not hesitate to contact talentboost(at)xamk.fi.

Latest posts by Guest Writer
(see all)