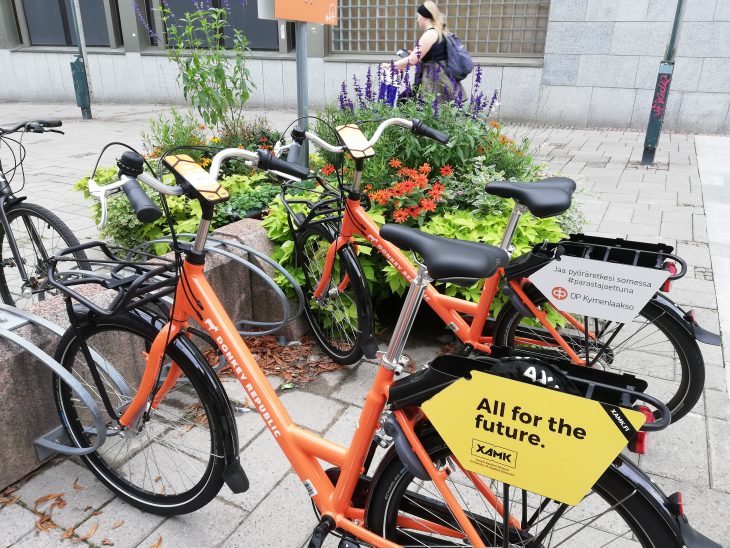 Orange.
You have likely seen this color more often these days. Vibrant tangerine-painted bikes are hard to ignore. These ominous two-wheelers are part of a company called Donkey Republic: a Danish bike sharing system spanning 11 European countries (and two states in the United States).
According to their website, the name is derived from the most rudimentary form of transportation – the donkey. I'm saddened that they didn't go with the synonym for donkey and name their company "Ass Republic", but they probably thought it would be too cheeky. D.R. is a friendly protest to the automobile-congested streets of the present with an adamant focus on sharing, promoting exercise and environmental awareness. Just open the app to find a nearby bike, divulge your digits, unlock, and ride off into the sunset – or since this is Finland, the daytime darkness. It's that easy… in theory at least.
Sifting through the comments on the Play Store however, there are many instances of the GPS mechanism being a bother. Equally enraging is the need to place the bikes in certain locations; While this does help to keep the city tidy, it severely diminishes the convenience aspect. Considering the majority of Europe is cycle-friendly and most of the population has their own bicycle, is there really a need for this service?
The prices vary from city to city with Tampere being on the lower end of the spectrum coming in at €0.75 for half an hour, cheaper even than in their hometown of Copenhagen at €1.85 for the same amount of time. Kouvola is not listed on their website for availability in Finland, but the price lands in the middle at €1.50 for 30 minutes and the discounts only start to surface at the 6-hour mark. If you have cash to throw into a pile with a match and gasoline, then go for the two-week rental at €81.00, but at that point it would make more sense to buy a used bike for about €100.
A bus pass (for a student) is roughly €40 a month but then again, the time table is rather limited. Will it work in Kouvola where the only thing that will get stolen is a bike? Is it worth the money when bus prices are 75% cheaper? Think of it as a morning after pill: you hope you will never have to use it, and if you plan ahead you likely won't, but when you desperately need it, the alternative can be catastrophic.
Latest posts by Leif Heflin (see all)