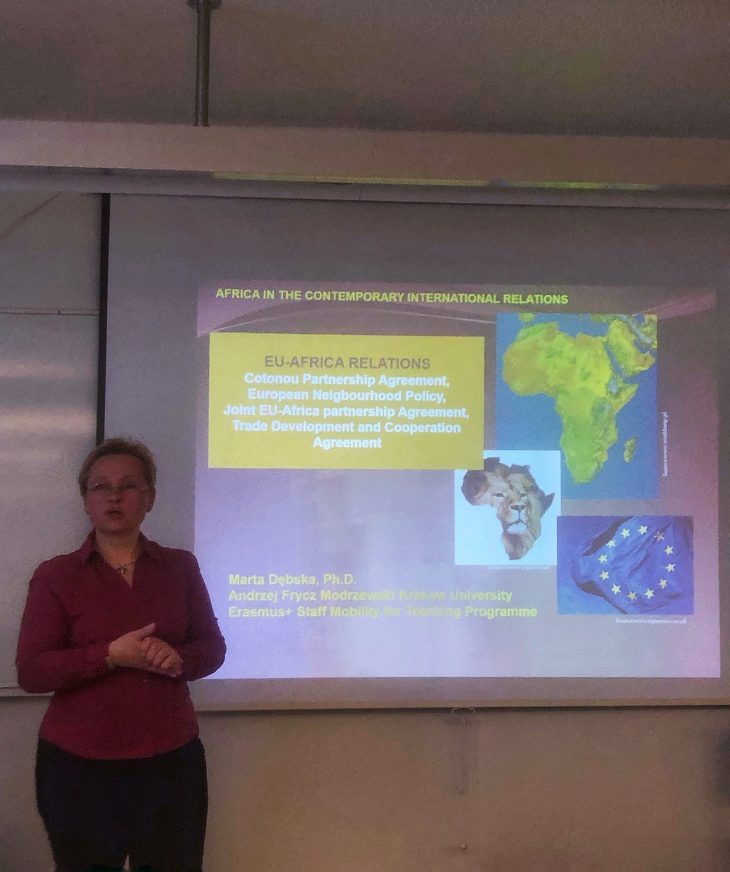 Last week we had a unique opportunity to learn more about culture of Africa from Marta Debska – the lecturer, teaching in Andrzej Frycz Modrzewski Krakow University of Poland. Her lectures were a great combination of historical, economical and cultural view on this exotic continent. We have discussed Importance of Africa on international scene in 21st century, EU-Africa relations and Chinese & Indian activities in this region.
After fascinating lecture about Cotonou Partnership Agreement, I had a chance to ask Marta about her experience in discovering this mysterious land:
Why are you so interested in studying African region?
Ever since I can remember, I have been always passionate about Africa. I have been teaching history and culture of this region for many years at my home university. The most blow-minding things for me is how culture and mentality of African people are different from Europeans'. Year by year, my interest in African studies is getting deeper.
Did you have a chance to visit Africa?
Yes, I have travelled to the Northern part of the continent, but only as a tourist. Now my target is also to visit the South part and participate in scientific expedition.
Why do you think people should not be afraid of ruining stereotypes and learning more about this topic?
Today in our interconnected and high-developed world, Africa is not that far away, as we used to imagine, it is more far in our minds. We should get away from our prejudice & expectations and be open to explore new things.
What are your predictions about the future of African region?
African population is very young and, therefore, very potential. In the past few years European countries have realized that they must be more involved in the development of this region, e.g. invest in social improvement programmes and develop educational system. Countries should cooperate, but only on equal rights.
 Are you planning to continue your studies about this amazing land?
Undoubtedly. I want to promote my knowledge and experience among younger generations, and I hope that students' thirst for knowledge will get bigger and bigger.

Latest posts by Guest Writer
(see all)