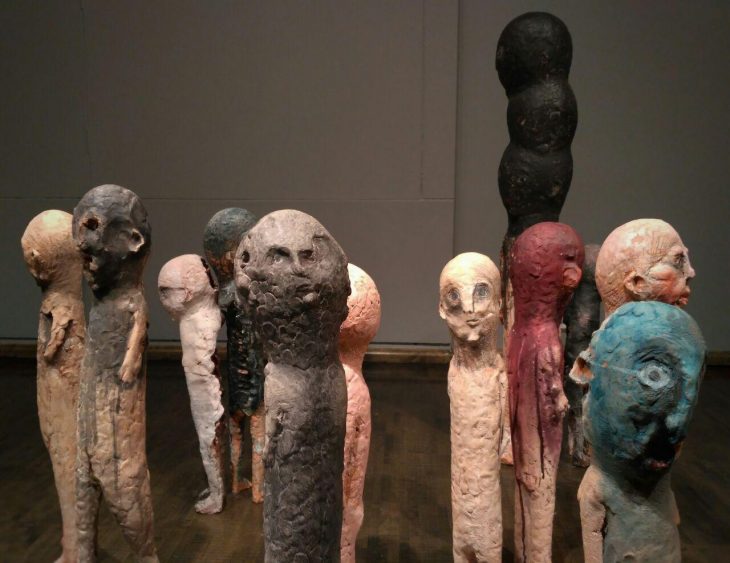 "Fragments" – Tommi Toija exhibition
On 22nd of September, Mikkeli Art Museum opened the new exhibition. Tommi Toija, Finnish artist and sculptor, is presenting his works of art – little clay people.
The idea was born in 2003 and was materialized as a group of sculptures called "Little Cowards" – 32-centimeter freaks with disproportionate heads and huge eyes. Every sculpture has its unique emotions and feelings. Little boys and girls, sad, questioning, playful, innocent, miserable, each is into his personal business. The most famous work of Tommi is eight-meters pissing sculpture "Bad Bad Boy", which is now exhibiting in Jätkäsaari, Helsinki.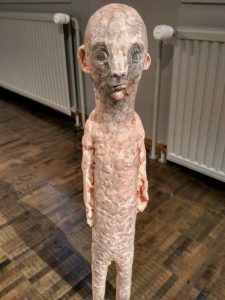 In current exhibition in Mikkeli Art Museum presents the new works of Tommi Toija. Among them the series of paintings "Fragments" and installation "The Strangers". The exhibition causes very contradictory feelings. On the first glance, these aliens seem scare and similar. Gradually, curiosity replaces fear and visitors notice the difference between the clay freaks. Eventually fear and curiosity give way to compassion. Small child-like clay humans are different, but similarly fare and pathetic. Each has its own problem, own question, and own truth. The exhibition is not a political or ideological statement, it is a depiction of human nature as it is.
If you want to discover unmasked human nature with Tommi Toija, welcome to Mikkeli Art Museum at 10-17 Thu-Sun (Tip for students: Fridays free entry). The exhibition will last till 4th of February 2018. Mikkeli Art Museum is also open on Wednesdays 12-19. Welcome!

Latest posts by Anastasiia Abgarian
(see all)