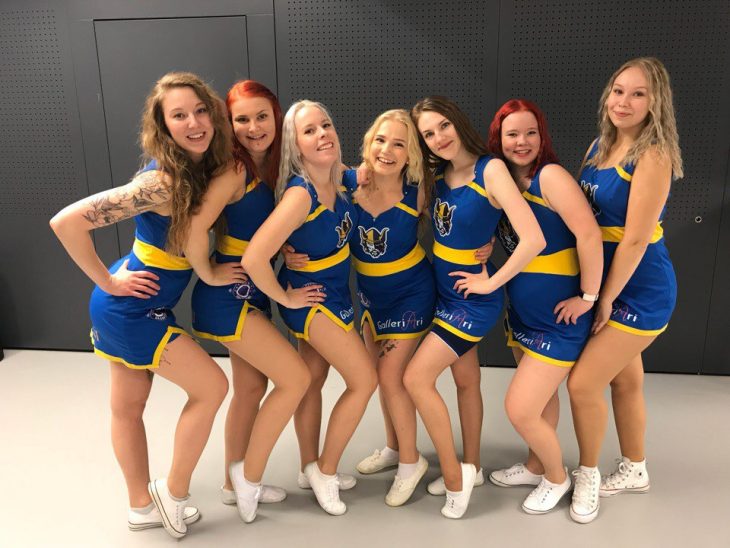 Jukurit hockey team and Blue Diamonds cheerleaders in Mikkeli
If blue, yellow, red and white colors remind you something like hockey, then you must be acquainted with Mikkeli`s Jukurit! But if you are not into the game itself, you might have noticed bright girls dancing every game – read inside view on being a cheerleader of Jukurit in the end of the article!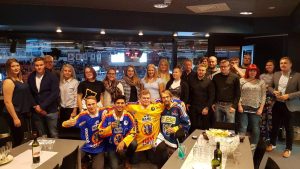 On 23 of September Xamk Student Union Kaakko was a «match host» for a game of Jukurit and Ilves (Tampere) and enjoyed watching from the best seats with special guests invited. Even though Ilves players were luckier during a penalty stroke competition and the game ended with 3:2 in favor of the guest team, it did not spoil the celebration mood and time was spent nicely with food and discussions of the game. You also could have a chance to win free tickets to that game, so if you are the fan of hockey, next time keep up with the facebook announcements from Kaakko.
What is the sports team without a support group? Blue Diamonds are the ones who are responsible for shining during all Jukurit home games.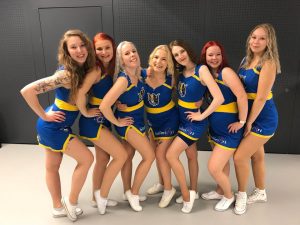 Anna Lazutina, a student of XAMK, became a part of Blue Diamonds this autumn, and is ready to share her feelings with us:
«I wanted to join a long time ago and finally saw in Instagram that they open application period in May and decided to try. In one month after interviewing, they informed me that I was accepted and here my Blue Diamonds life was begun. Initially, I was very nervous about the team`s attitude towards me, because I`m the only one who does not speak Finnish and I was afraid that I would be an outsider, but girls are trying to do their best to make me feel comfortable.
There are two trainings each week, where we are dancing, learning new choreographies and having fun.
The most thrilling part is waiting before the game. My heart stops indeed. The games give you amazing feelings, especially, when our guys score – that moment you are full of proudness and truly happy.
Overall, this experience is definitely worth to try. The team is very cool and you will get a lot of friends there. Everyone is trying to be not just a team, but a family. All members are supporting each other and doing everything they can to make all things work».

Latest posts by Guest Writer
(see all)