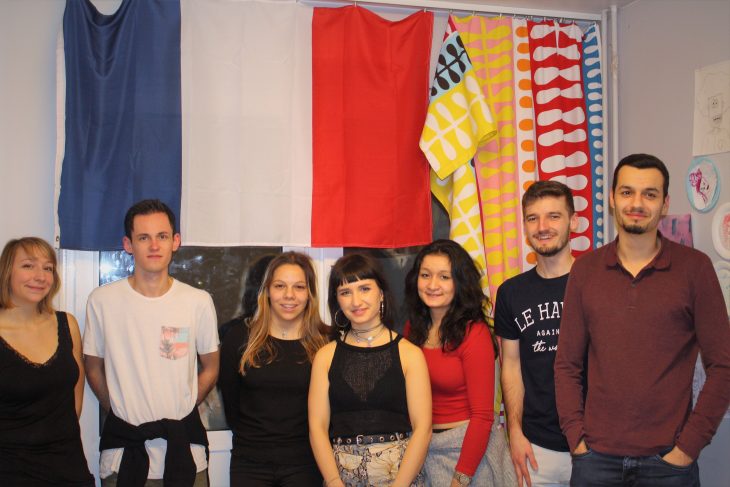 Do you ever felt the desire to gain a little insight in the French way of life and experience a bit of "la vie en rose"? Then this is your article.
Last Thursday the exchange students started a weekly event called "country night" in which a group of people present typical food and behaviors of their homeland.
The start was made by the French people as they gave an overall impression how the French food tastes and what France is famous for.
It all started with a little presentation about the country in general, which cities are remarkable and where all the exchange students come from.
After getting a general overview about the country itself there was a little quiz about famous people like Edith Piaf, Napoleon, Marie Curie, Victor Hugo or David Guetta as well as some tunes like "Je ne regretted rien" from Edith Piaf or the National Anthem to taste the spirit of being French.
After bringing everyone in a French mood the main attraction of the evening started: the three-course menu.
The first typical French course was a Quiche, a spicy French cake that tastes delicious regardless if it is served cold or warm. Basically, it is a crispy dough with a hearty filling. From Goat cheese to broccoli to salmon, there are no rules what the filling should be made of. The typical French variant is the "Quiche Lorraine" where the topping consists of smoked bacon and a mixture of grated cheese, onions, eggs and milk. It is not necessarily a starter, it can also be served as the main course. Easy to cook and tasty, worth to give it a try onetime!
Gratin Dauphinois was served as the main course, a dish made from sliced potatoes gratinated with cheese and cream. It comes from the Dauphiné region in the south-east of France. Here, too, applies the rule that there are no rules for the fillings set. Added with some vegetables it creates a unique taste of a vegetarian variant, but it is also possible to spice it up with some meat if the "only potato" variant appears too simple for one.
The Gratin Dauphinois can be served as a main dish itself as well as a side dish. Cheap, easy to prepare, filling and tasty, let´s call it the perfect student meal. Additionally, some Baguette was served as well as some French wine to round things off.
To end the French country night with something sweet, Crêpes were served. Crêpes are the thinner, French variant of the pancakes we know. As with pancakes, Crêpes can be topped with various things, sweet or salty. Bon appétit!
Merci beaucoup for this little sneak peek into the French way of living!
Latest posts by Lena Gelfert (see all)