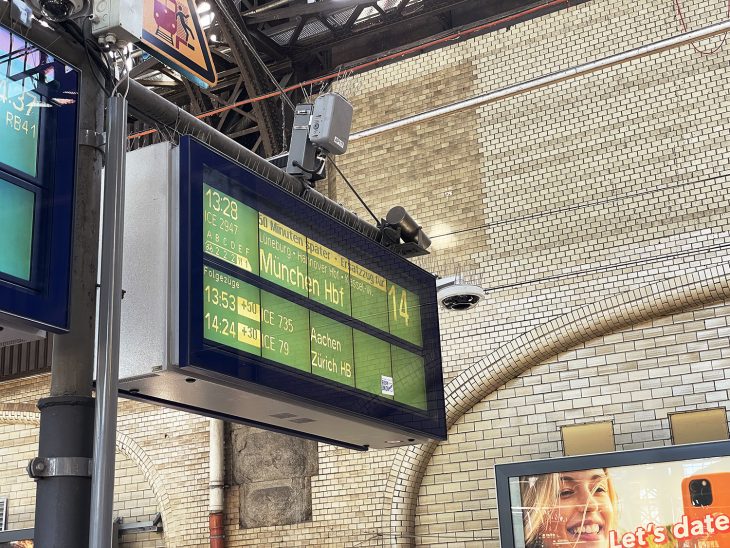 Foreign educational exchange benefits lecturers as well as students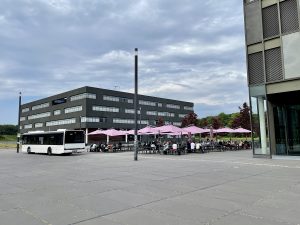 Back in the autumn 2021, I received an e-mail from Germany, asking if any lecturers were interested in teaching in the international summer term at Bielefeld. Each year FH-Bielefeld hosts a six-week summer term for international students in English. As I had not been on exchange for a few years I decided now might be the perfect time to jump back into Erasmus exchange for the summer of 2022. A quick e-mail later and I was confirmed as a marketing lecturer and delivering sessions in one week related to social media marketing in May 2022.
Preparing for lecturer exchange is quite similar to what students preparing for exchange go through, albeit we are only going for a very short trip normally, in my case just the one week. Planning of the travel and accommodation is usually the most important part, ensuring getting there in good time and finding appropriate accommodation is not always easy. In my case, getting to Bielefeld from Helsinki proved challenging. It is not possible to fly directly there, so the options were either to take a transfer flight from another airport, or fly to one destination and then travel by train the rest of the way. As the transfer times ranged between 10-14 hours waiting time, or just 40 minutes to get from one terminal to another in Schiphol or Frankfurt, I decided that a direct flight to Hamburg, an overnight stay, then a 3 hour train ride would be the better option.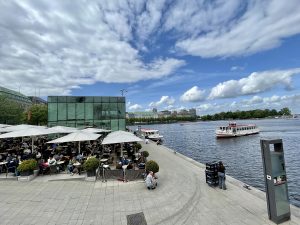 Well the journey started out quite ok, a nice flight, easy to find the train at the airport directly into the city, then a short walk to the hotel. The room wasn't ready but just a short wait and all was done. Whenever going on exchange the cultural and social aspects are just as important as the teaching or studying themselves. So a good walk around the city of Hamburg, sampling the local culture was a good way to spend the Saturday evening.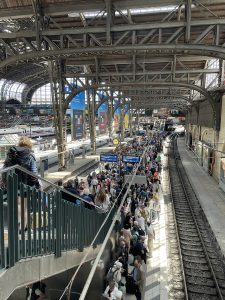 Leaving Hamburg on a sunny Sunday for the train journey to Bielefeld did not go so smooth. I had booked the train tickets well in advance, paid for a seat on the trains so that I did not have to try to find seats or have to move if someone had reserved the seat, so this was going to be a fairly relaxing journey. However, in recent times Deutsche Bahn have been offering a very poor service apparently, with trains often running late. I was prepared for this but not to the extent of what happened next. I got to the station a good 30 minutes before the train was due to leave, only to see notifications of many departures being delayed for a number of reasons, and my train showed 20 minutes delay. Ok, not so bad but my connecting train in Hannover, had only 18 minutes for transfer. That was the least of my worries when the delays kept piling on a and eventually after 3 hours waiting on the platform, the train finally arrived. Still the train was delayed leaving the station, and later still delayed entering Hannover. Then the train from Hannover (not my train just the next train leaving for Bielefeld) was also delayed. To cut a long story short, I arrived at my hotel in Bielefeld nearly 5 hours later than I planned. Luckily there were some places still open for food (many are closed on Sundays and Mondays), so at least I didn't go hungry.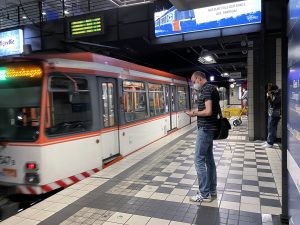 Bielefeld is a small enough town to navigate, and the public transport system is excellent. A ten-minute train/tram ride from the station outside the hotel meant I was at the university with a very easy journey. On the Monday afternoon I met with my host Nermin Köklüce, the Faculty Coordinator for International Activities, and just under 20 students that were attending the summer school. Most were from the USA, a couple from Canada, a few from the Ukraine, and a few from Bielefeld itself.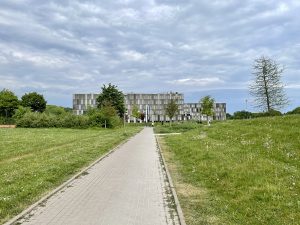 Arriving the next day for the first of my lectures, I met with the Dean of the faculty, and we had a very brief discussion about double-degree possibilities. I continued my discussions with my host relating to future cooperation projects and the possibilities for organising double-degree opportunities between our universities.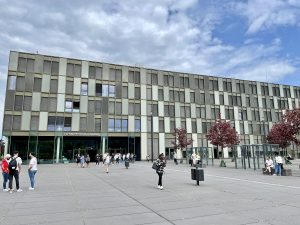 Meeting the students for my first lectures was as exciting as it always is, I enjoy teaching and meeting new students is always great. These students were no exception, they were eager, open and communicative. The lessons went well, and it was hard to keep within the time limitations as the students wanted to discuss so much more – always a good sign.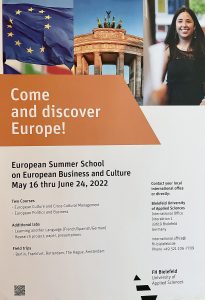 This year, the summer term at Bielefeld runs from 16.5-24.6, and students will study courses under the topis of European culture and politics as part of Business studies. There are several visiting lecturers from various countries delivering their content during the six-week term. Most of the students are studying Business in some form in their home universities and this is a good chance for them to obtain some diversified knowledge. In addition to the studies, students will travel to various cities in Germany and The Netherlands, visit several companies, and carry out some real-world research and development projects. The idea behind the the various topics taught by the visiting lecturers is to help students with their projects as well as enhance their knowledge, and gain some international and cultural insights and networking.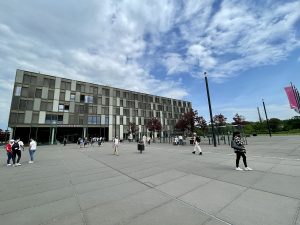 FH-Bielefeld is a good-sized university of applied sciences, with approximately the same number of students as Xamk. The faculty building in Bielefeld is modern, just 5-years old, light, airy, and easy to navigate. Being just off the train/tram stop means it is easy for students to get to and from campus.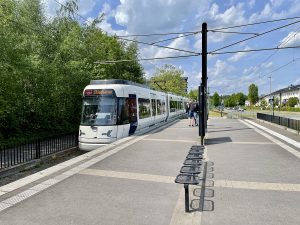 For anyone interested in visiting Bielefeld, either lecturers or students, I can thoroughly recommend it – just avoid Deutsche Bahn!

Latest posts by Hugh Clack
(see all)