IELTS Academic language test – needed for future purposes?
Have you considered applying for a university or working abroad after graduation? It may be that you need to take a language test to prove your English language skills before applying. The IELTS Academic language test is the right one for you in that case. I took it myself, so I can share some pragmatic experiences with you.
Two types of IELTS tests available
The IELTS Academic test is suitable for those wanting to study in an English-speaking environment or university (higher education). You can also take IELTS Academic for professional registration purposes. The language test features vocabulary that is familiar within an academic setting. The IELTS General Training test is suitable for those applying to study below degree level including an English-speaking school or college, or for immigration.
4 categories in IELTS Academic
The IELTS Academic test includes four different categories to test your English skills in listening, reading, writing and speaking. I completed all fours tests during the same day, which took approximately a bit over three hours for listening, reading, and writing, and then the speaking part took another 20 minutes later during the same day.
Listening
You will listen to four recordings of native English speakers and then write your answers to a series of questions. First one is a conversation between two people set in an everyday social context, the second is a monologue set in an everyday social context, e.g. a speech about local facilities, third one is a conversation between up to four people set in an educational or training context, e.g. a university tutor and a student discussing an assignment, and the last one is a monologue on an academic subject, e.g. a university lecture.
Related to these of these four recordings, you will fill in answers to ten questions. The questions can be filling in a word into the sentence, choosing the right answer option out of multiple answer options, matching the right options, short answer, or completing a map, note, table, etc. The key is to have the correct spelling and grammar written down in your answers – otherwise the answer is wrong.
The actual listening part takes 30 minutes, and you will have 10 minutes in the end of the session to transfer your answers into a separate answer sheet. No time extensions are provided, so make sure that you will transfer the answers into the correct sheet within this timeframe.
Academic reading
You will have 60 minutes to complete three reading passages and answer in total of 40 questions. Reading passages are typically long texts, which can vary from descriptive and factual to the discursive and analytical texts. The texts are taken from books, journals, magazines, newspapers, etc.
The tasks and questions related to the reading passages vary. They can be multiple choice or short-answer questions, identifying and matching information/headings, identifying the writer's views/claims, or sentence, summary, note, table, diagram label completion.
Skimming through the text and picking up the relevant things are essential things. Correct reading techniques are also key. You must pay attention to the time limits since you have 3 reading passages and questions related to each of them to work on.
Academic writing
You will have 60 minutes to finish two writing tasks. In the first task you will be presented with a graph, table, chart, or diagram and asked to describe, summarise or explain the information in your own words. You may be asked to describe and explain data, describe the stages of a process, how something works or describe an object or event. In this task, you should form an overall picture of the information provided and introduce that to the reader. That would be your main message. Next, you should capture 3 details that you would like to highlight. These could be e.g. comparisons, process stages or other details you'd like to bring up in order to provide supportive messages to your main message. It is advised to spend 20 minutes on this writing task.
In the second task, you will write an essay in response to a point of view, argument, or problem. In this task, the most important thing is that you will form your own viewpoint to the essay topic and introduce that in the beginning of the essay. After introducing your own point of view, you should provide different plus and minus messages related to your viewpoint. Taking approximately 5 minutes to prepare and get thoughts straight before writing is key for both tasks. For the essay writing you should save 40 minutes in total out of the 60 minutes. Responses to both tasks must be in a formal academic style.
Speaking
The speaking part will last approximately 11-14 minutes. First, the examiner will ask you general questions about yourself and a range of familiar topics, such as home, family, work, studies, and interests. This part lasts four to five minutes.
In the second part, you will be given a card which asks you to talk about a particular topic. There are also 2-3 subtopics provided in the card, so that will provide you some help to prepare. You will have one minute to prepare before speaking for up to two minutes. The examiner will then ask one or two questions on the same topic. The preparation time is key since you literally have to speak about the given topic up to two minutes – no longer than that. For me, the topic was a manner that I'd like to pick up from someone, and the subtopics were what would that manner be, from you I would like to get that from, and why.
In the last part, the examiner will ask you further questions about the topic, which you just talked about up to two minutes. These questions will give you the opportunity to discuss more abstract ideas and issues. For me, the conversation moved towards social customs for children; what social customs would be important to learn, and why. This part of the test lasts four to five minutes.
More information about the IELTS score requirements for universities (Master Study Portal): https://www.mastersportal.com/articles/2158/ielts-admission-scores-you-need-for-the-best-universities-in-europe.html
More information about the IELTS language test: https://www.ielts.org/
IELTS score scale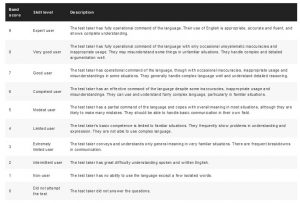 Source: IELTS (2022) Available at: https://www.ielts.org/about-ielts/what-is-ielts

Author: Pia Jääskeläinen, Senior Lecturer, Xamk Mikkeli

Latest posts by Guest Writer
(see all)