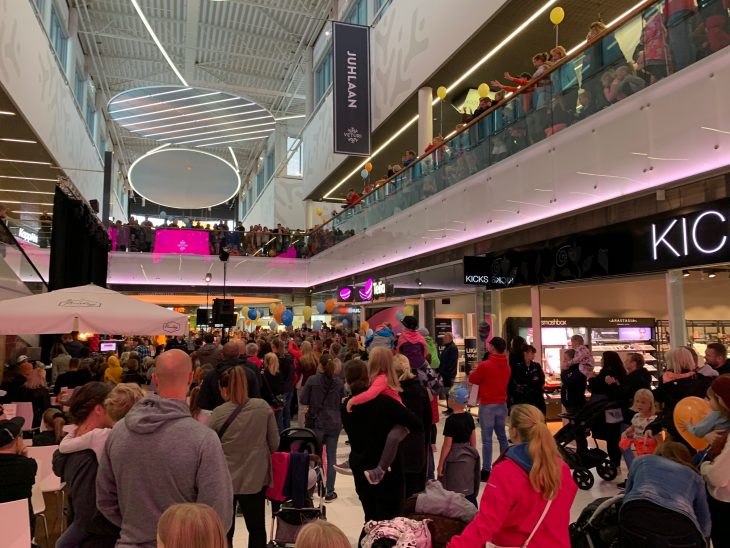 One of the most important assets of our city, Veturi, had celebrated it's 7th birthday last weekend and Insider has taken the opportunity to give you the insights of the mall. The weekend was prepared for a long time and when as we asked to the manager, Jari Koistinen, it was a satisfiying birthday party to them with the 40.000 visitors.
Celebrations started on Friday with the hosting of Junksi Hannikainen from 11 AM. Lucky dip games and many activities took place and of course discounts on the stores while there was games for all ages to keep children entertained for the day. The star of the day, Danny, came to the stage at 6 PM to give an amazing first day to the event. For the people who does not know, he is a Finnish singer with stage name Danny and he is holding one of the longest singing careers in Finland with over 50 years long.
As Saturday comes, new celebrations were waiting for the visitors. Started with Junski Hannikainen at 11 AM again and kept going with candy rain and make up point for the people that want it. Truly, make up point was not only for women, it was for whoever wanted it. For children today, there was wheel of fortune with amazing gifts and there was so many participants too. Children also enjoyed company of Tatu ja Patu. For the ones that don't know what that means, it is a series of comic with two character in it named Tatu and Patu. And the star of the day was Ti-Ti Nalle with ville viking beside her. Ti-Ti Nalle is a Finnish children show hosted by Riitta Korpela. As we talked about Finnish students, the show was going on when they were children and it is still going on. Most people love the show. Final day of celebrations were hosted by Junski Hannikainen again starting at 12 AM and the was two important guests, Tuure Boelius and Nöpö-Felix. Nöpö started at 1 PM to give a meet and greet to his fans and Tuure came at 3 PM to meet his fans. The day held to a few folklore dances from India and a rap dance event with everyone in participation. Finishing the day with lucky dip games and discounts in shops. The event was something to remember for everyone that were there.

Latest posts by Muhammet Cakiroglu (see all)