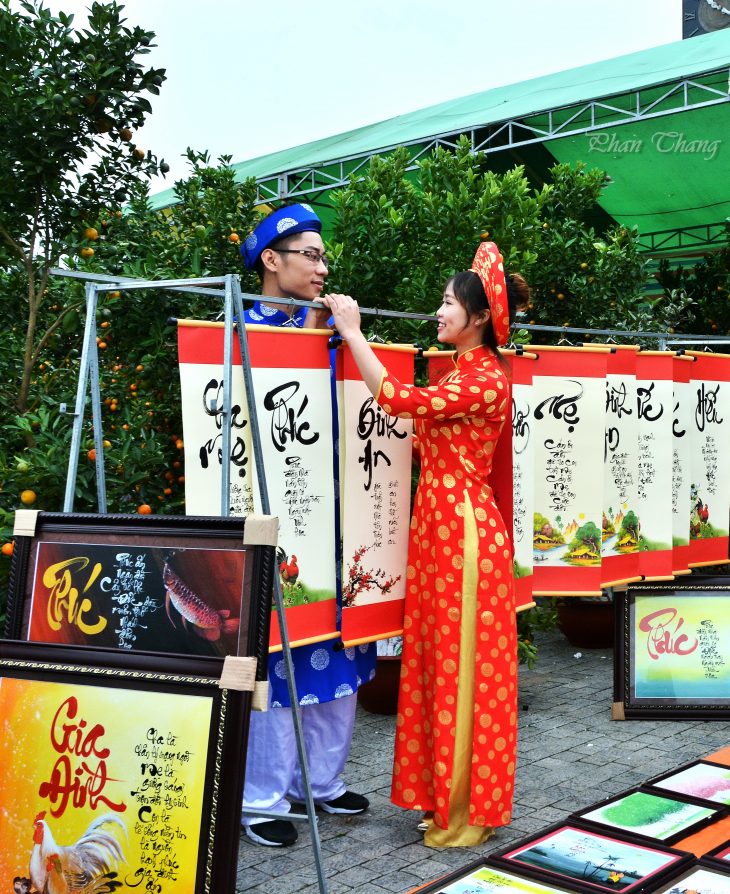 Lunar new year is the first day of a secular year, the year based on the cycle of the moon. For East Asian countries, Korea, China, Vietnam, … the Lunar new year is often in late January to mid-February, which will be Feb 15th this year. Most Asian countries have different names and traditions for the Lunar new year celebration. So in this article, I am going to concentrate on the Vietnamese Lunar new year, the "Tet".
What does Tet mean to me?
Generally, it is biggest and the most important celebration in Vietnam. We really take it very seriously and prepare for it even months before. Tet for Vietnamese is probably as big as the combination of Christmas, NYE and Easter day for Westerners. In the past, we were in war for thousands of years, so we did not have the resources for many celebrations. Instead, Tet was somewhat the only occasion for us to enjoy ourselves, treat others well, spend time with our family and show our respects to the ancestors.
As a kid, I used to get so excited for Tet. It was when I got to receive the lucky money from adults, had long days off school, got to dress nicely and enjoy every Tet's treat that I loved. Now as an adult, and especially as an abroad student who could not come home for Tet, that I can finally deeply understand the meaning of Tet. Tet is truly for family moments, for sharing and caring. I just miss home so much as Tet festival is coming.
Now comes the fun part, where I will guide you guys through the most important elements of Tet.
Animal of the year
2018 is the Dog year according to the Zodiac calendar (hurray! Who doesn't love dogs?). So basically, dog is the symbolic and spiritual animal this year. Rumors say Asians eat dogs, but hey, we even celebrate Dog years with all our respect!
Lucky money
This is probably the most exciting part for every Vietnamese kid when it comes to Tet (not really for adults though!). During Tet days, children will receive lucky money in tiny red envelopes from adults. This will bring fortune to them for the new year. I used to count my lucky money with my brother at the end of every Tet festival to see how much we "earn", one of the fondest and prettiest memories in my childhood. Our parents did not let us use the money anyway LOL!
Flavors of Tet
Then comes the food, oh god I really miss the food. During Tet festival, we make a bunch of traditional food to invite families and friends to come over for gatherings. You can find traditional dishes like steamed rice cake, spring rolls, jellied meat, dried fruits, dried seeds, … in every Vietnamese house. Preparations for these dishes are pretty extensive but super fun, as every family member joins the process and has a great time together.
The time for family
On the last day of the lunar year, my family used to have dinner together, pray for our ancestors' blessing, watch Tet's special comedy show "Tao Quan", and then cheer each other with the best wishes when the clock turns 0:00. It was the warmest family moment for me, and probably for every Vietnamese spending time with their family. The first day of the lunar year represents a fresh start, the cleansing of the past misfortunes, and hopes for brighter days. It is believed that a great first day will result in a whole lucky year. So everyone will try their best to avoid negative emotions, dress nicely, and spend the best wishes to each other.
I can seriously talk about Tet forever with sparkles in my eyes, it is just so special. If I might wake your interest about this unique festival, take a deeper look into its cultural richness and you might fall in love with it just as much as I did. Happy Lunar new year to all my fellow friends!

Latest posts by Trang Nguyen
(see all)