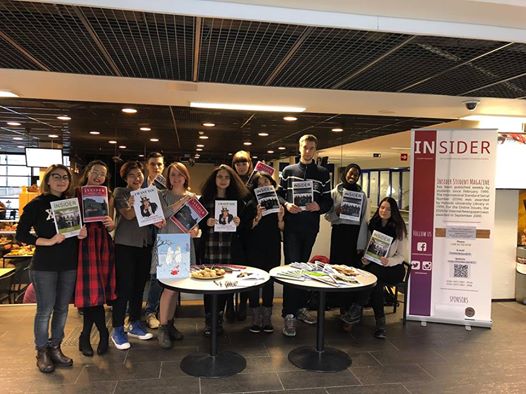 Internship Vacancy – Editorial Assistant
Insider Student Magazine is looking for an Editorial Assistant to work alongside our editorial team under the editor in chief to help keep our editorial operations running smoothly. You should be a good communicator, eager to learn, and excited to collaborate with our entire staff, readers and partners.
You will:
• Assist our editor in chief with scheduling and other administrative tasks
• Carry-out social media updating
• Work closely with our editorial team to ensure tasks and deadlines are completed
• Assist with the printing of the magazine
• Help plan staff and reader events
• Represent Insider at various events
• Help plan the upcoming 20th anniversary party to be held in February 2019
You are:
• A motivated individual and can work on your own initiative
• A great organiser and pay attention to details and deadlines
• Ready to face any challenge that might arise
• Willing to work within a dedicated team for developing Insider
• Computer literate
No previous work experience is necessary. The position will be based in the Insider office, Main Building, Paraatikenttä 7, Kouvola. The work will mainly be in the autumn semester but also the beginning of spring semester. This position is suitable for those looking for internship/practical training.
Apply by e-mail to insider@xamk.fi by Tuesday 11.9.2018 briefly explaining your interest in the position.

Latest posts by Hugh Clack
(see all)