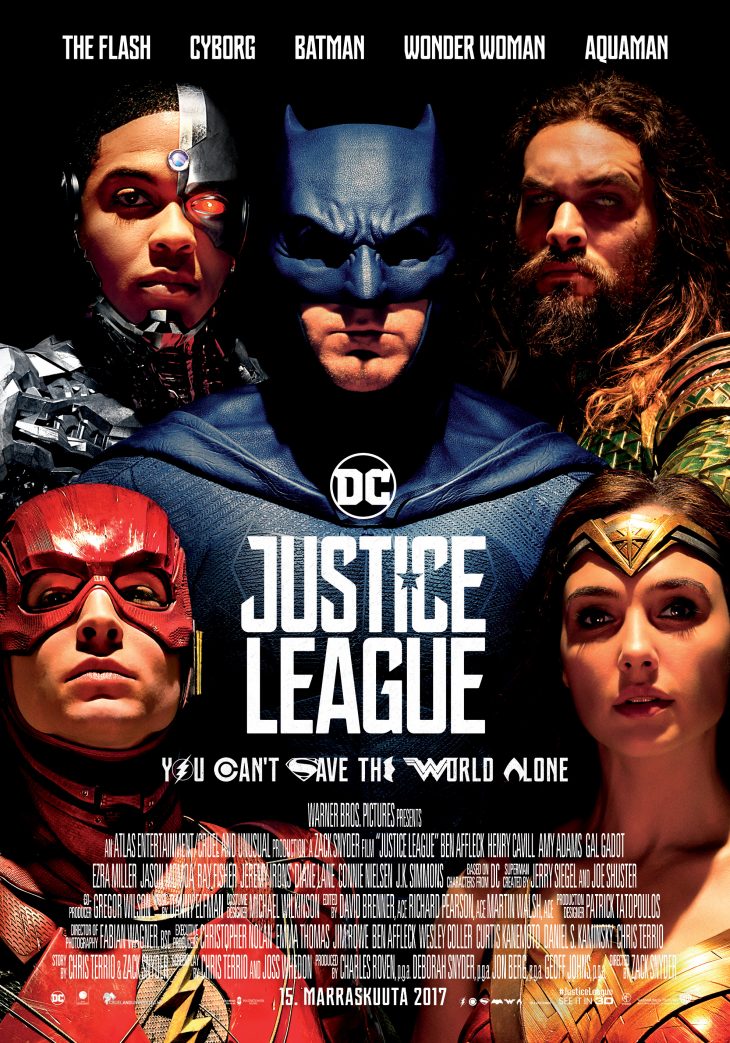 Fantasy, Action 
Director: Zack Snyder 
Writers: Chris Terrio, Joss Whedon 
Leading roles: Ben Affleck, Gal Gadot, Jason Momoa 
Movie that I personally have waited for a long time. I enjoyed the movie "Wonder Woman" (2017), so I was hyped up to see all the Justice League heroes in this one movie. "Justice League" is sequel to the "Batman v Superman: Dawn of Justice" (2016). The movie is more logical if you have already seen the "Batman v Superman: Dawn of Justice", but it is still fully understandable without having seen it. 
"Justice League" continues where the previous movie was left off. Superman has now been deceased for a while, and Batman's visions of Steppenwolf's return has become a reality. Steppenwolf is a hellish creature that was defeated in a war 5000 years ago, that unified humans with folks of Atlantis and the warrior women of Themyscira. With all the races unified they were able to win the Steppenwolf and exile him and his army from earth. Now after 5000 years has passed, humans aren't working together neither recognise the existence of the other supernatural human races. Without the previous union the bad forces see the world to be in a weak state, and therefore become rise to destroy and take over the whole world. To win against the Steppenwolf's army, Batman begins to aggregate the union back together to fight the common enemy. 
The movie is highly visual and full of action scenes, where supernatural creatures fight each other and try stop injustice from happening. It is not too serious and there is always humour added to it. This was the first movie where Aquaman had a proper part. They succeeded to make him more credible, because the comic book version of him was not too impressive.  
The plot in this movie is quite simple, but to me the main point in this one is the fighting scenes and the high visual side it has. Movie tells the main points of the origin stories of the characters. I can see that the makers assumed the viewers already to know something, or they are saving the detailed origin stories to the character's own films. It can be a good thing, since it keeps the curiosity towards the new movies alive. Overall, I enjoyed the movie, it was simple but amusing and I enjoyed how the film looks visually. 
STARS: 4/5 

Latest posts by Hugh Clack
(see all)