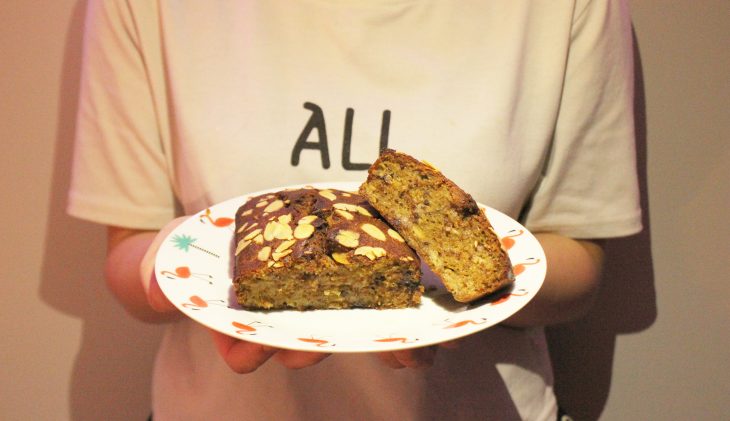 For some reasons, I had always been hesitated when talking about making breads from scratch in the past, until I found out about banana bread – the easiest and most fantastic bread of them all in my opinion. This recipe requires no mixer or expensive equipment whatsoever. The hardest step is actually the waiting time while it is in the oven. Let's jump right in.
Ingredients:
1-2 bananas (the riper the better)
1 egg
150g butter
½ cup brown sugar
1 cup all purpose flour
¾ teaspoon baking soda
¼ teaspoon salt
sliced almonds and chocolate chips (optional)
Instructions:
Pre-heat the oven to 180°C.
With a whisk, mix butter and sugar in a bowl till fluffy and light.
Beat in the egg and whisk well.
Peel the bananas and add them into the bowl. Mash thoroughly until there is no visible chunk.
Add flour, baking soda and salt. Fold the mixture in with a spatula.
Mix in as many almonds and chocolate chips as you like. A little too much chocolate won't hurt anybody!
Once well mixed, pour the batter into a mold and spread it out evenly. Top it off with more almonds for decoration.
Put it in the oven for approximately 1 hour and 10 minutes. I know this is a painfully long time but trust me, it is worth every minute.
When you stick a toothpick in the middle of the bread and it comes out clean, take it out of the oven and let it rest for a few minutes.
Cut the bread into slices and enjoy with a cup of tea or hot chocolate of your choice.
And that's it! A warm banana bread with oozing chocolate pieces and aromatic toasted almonds is waiting for you to make. I have tried this recipe plenty of times and I always had fun making it. It is perfect for sharing with friends on a cosy Sunday night gathering or even by yourself. Good luck!

International Business student at XAMK