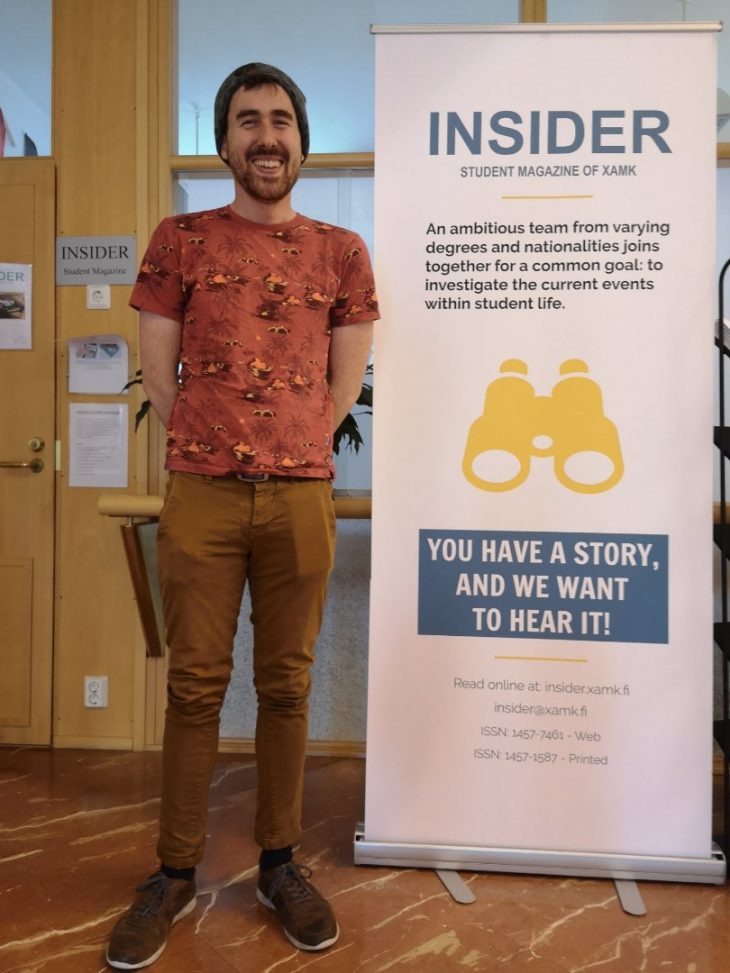 Leif Heflin: the worst thing for my business is Mondays
This week I sat down with Leif, co-founder at Kielo Restaurant & Bar in Lahti. We had a nice chat about starting a business in Finland, so here we go.
How did you realize that you want to do business here and it should be a restaurant? 
I've always been a programmer. I used to fix bugs and whenever you fix something, something else breaks, so I always had complaints. So I wished for something more viable, and coming to Finland for business was an opposite move of going to the art school, which I did before. Then it turned out that I could combine everything I've learned: the arts, even some philosophy, with a business, to start one in Finland, because there are no jobs for foreigners in Kouvola. So when I first realized that I have to go through some cleaning jobs and being treated not so well, and needing to do my thesis and training, I thought I could combine it all at one and start a business. First, I wanted to do something for students in Kouvola to give them a thing to do besides getting drunk. Or standing in a mall doing nothing. So then I went to the city officials and said, 'I wanna build this café for students, it'll keep them in a right direction and build a community', and their response was, 'we don't need another café'. Then I was like, 'all right, I'm leaving'. I spoke with my friend of mine to find out what you need to do to start a business in Finland, and he said that he was working on one in Lahti and invited me to join. He wanted to make a bar, I wanted a restaurant, so we combined them. We started halfway through January.
What are the main obstacles that you had to overcome? 
Actually, I'm writing my thesis on marketing a bar, and that's the obstacle. Once people are inside, they say they love the place, but getting them to step inside the door is really difficult. You have to understand the mindset of Finns in general and those from Lahti as well and look at the bars around you to go with the competition but also stand out. The nice thing is that you can order from the warehouse or the beer company on credit. You get the products, sell them and return the money. But you can't do it with the salary. You need to keep having money coming in. Besides, every business is very difficult in the beginning. Also, Finnish laws about marketing alcohol are very specific and weird. It's like, you can only do it during 3 exact hours of the day. Or you can't advertise hard liquor in a grocery store but you can have that same flyer in your place. On the other hand, if you advertise on social media, you can't have brands there. It's not because companies will sue you, no. It's just the government doesn't want kids to drink, and they somehow think that brands are the enemy for that. We also have a small kitchen, so we needed to decide between an oven and a stove. We picked an oven, and turns out you can still boil water and make a soup there.
You've lived in America, Denmark and Finland. Which one is the easiest to start a restaurant? 
Talking short-term, US is much easier, but then you have no support. Finland is very difficult in terms of paperwork, but eventually you have a lot of support. If you're able to do it right, you can get 30-40k from the government for a loan with a very low interest. People spread the word really fast, and the warehouses deliver right to your door every day. Don't think it's quite that easy in the US. Taxes are easy to handle, you just have a bookkeeper working on them. In the US you do it yourself, and the government is still coming after you because you missed one little thing.
So, if we take the best from US and Finland, we'll end up with the perfect country to do business? 
Yes, that's right.
Would you say that XAMK helped you to understand how this works?
Yes, but not just work within the building but also StartUp Passion. It helped me understand how to build an idea into business overnight. Of course these ideas never go anywhere but the practice really helped. Speaking about school, it wasn't just, let's say, a history. For example, HRM with Hugh. It was 'here's a history, here's an exercise. Make a little fake business and you have to advertise this business to these people and make them come for an interview'. So instead of just reading the book, we got to try and get immediate feedback.
What food do you have?
Originally it was sandwiches but now it's been transformed. We have American, Nepalese, Danish, Finnish, depending on a day. My two business partners are Nepalese, I have American and Danish roots, and we are in Finland. We also have a monthly menu, and we will have pizza every Friday starting October. That's the for sure thing.
Do you have to be a good cook to open a restaurant?
No. Restaurants exist because people don't wanna cook at home or they wanna eat with friends. So even the fact that you can cook something can bring some people. But they'll only stay if it's good food. And make sure it smells good!
What's the best and what's the worst thing that happened to you during this time?
One night I invited a whole student orchestra and offered them a free glass of champagne. Our average day at that time was like 300 EUR in sales but that time it was 900. That was a good day. The worst thing is Mondays. Everyone is so hungover they don't want to drink.
If you could go back to the middle of January, what would you have done differently?
Make sure we did the exact right order to get the loan from the government, because then we wouldn't have any money troubles right now. To get a loan, you need to show that you're ready to open a business. To do that, you need to have a place rented. To rent the place, you need a business registered. And if it's registered, you can't get the loan.
How does it work then?
I haven't figured that out yet.
Besides from being a very entertaining person to talk to, Leif is generous and doesn't forget where he comes from. He offers a 10% discount on everything, all day and night, every day to every XAMK student. Just show your meal card, certificate of study or something else, and you'll get it! Visit Kielo's website at barkielolahti.fi
Latest posts by Nikita Munenko
(see all)