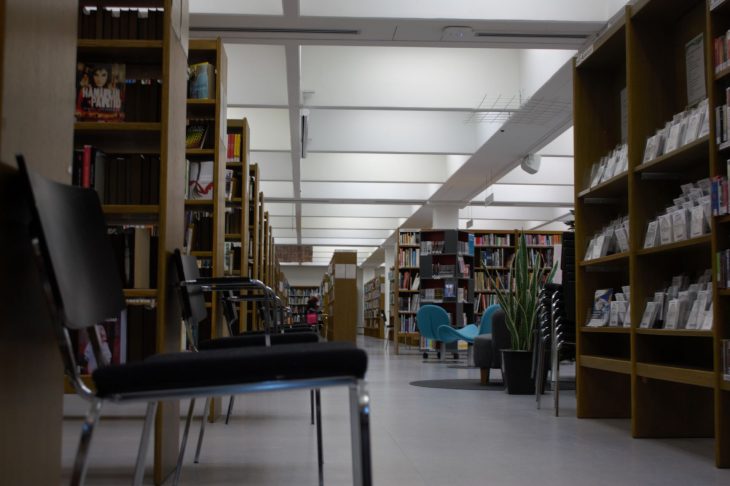 As a magazine targeting students, we are trying to improve the life of the students. As we have been observing, our students do not use the city library. With this information, we wanted to know why and came up with some answers. This is mainly because we have a very good library for our school but Kouvolan Library has a lot to offer. Now, our students do not know about this fact. As our purpose is to let them know, we paid a visit to the library.
First, we just walked in to see what can someone see when they enter to the building. We saw a lot of books. Surprisingly, we saw a lot of video games. We saw a children's area. We walked down the stairs and we saw a cafeteria. We walked towards the light, and we saw the real thing. A gaming room. There was every console we knew and some that we never seen before. But to get information we walked up and asked the desk for information after we introduced ourselves.
We met a lovely lady named Jenni. She told us about what people can do in the library.
First thing people can do in the library is to read obviously. They provide peaceful environment for people to read as long as they want. They also provide magazines for people to read.
There are computer for people to use with internet connection and they can be used for surfing online and there is no time limit for usage of anything in the library.
Downstairs, they have a place called 'MediaMaja'. There is Atari, Nintendo, Saga, PlayStation, Commadore 64.
Also, they provide a music studio for people that are interested in making music. There is a studio downstairs and there are material for music which we don't really know about but if you are a musician, you will enjoy your time there.
There is a place called 'Urban Office'. You can use it as personal area for you and it is free. Take your computer and do your work with your own peace.
People can go to the library with their children to entertain their children in the child area. There is a very small park where children can get tired and parents get happy. There is Lego games and different small games for children to spend time.
Also, since this is an international school, we talked about different languages. They provide big choices in English, French and Russian. They have small section for few languages. Arabic, Chinese, Kurdish, Persian, Somalian, Thai, Turkish.
If you speak any of those languages, take a chance and see what they offer in your language. 'For Turkish, it was surprising to see some of the books there. I wonder how they got those books' said Muhammet, our Turkish member. Some of these writers are not well-known. But somehow they got their way here.
Lastly, Weekdays, library opens at 9 Am and closes at 8 PM. Saturdays, it opens at 9 AM and close at 3 PM. Sundays are off.
In a small city like Kouvola, this place is one of the good places to spend time with entertainment.

Latest posts by Guest Writer
(see all)