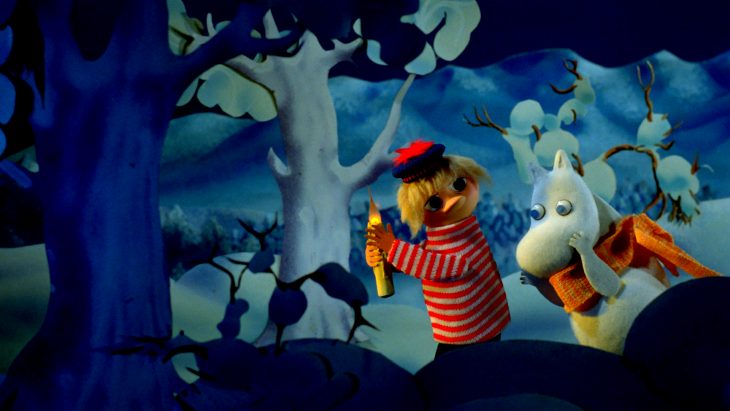 Moomins and the Winter Wonderland
Moomins and the Winter Wonderland 
Directors: Ira Carpelan, Jakub Wronski 
Writing: Ira Carpelan, Tove Jansson 
Leading roles: Bill Skarsgård, Stellan Skarsgård, Alicia Vikander 
Moomins is a classic book series written by Finnish writer Tove Jansson. 
The story is begins when fall has come to the Moominvalley, and moomins start to prepare for winter. As always in the fall, Snufkin packs his pack and heads to the south. Moomins and Little My all stay in the Moominvalley the whole winter, but they sleep through the whole season. After moomins have retreated to their winter sleep, Hemulens skies in the Moominvalley and runs into Little My, who was woken from her winter sleep by squirrel. Hemulens explains to Little My all about Christmas and how they should already be prepairing for the it. Together they decide to wake the whole Moomins family from winter sleep to spend the Christmas together. 
The film is made by using puppet animation, which is refreshing to see amongst all these 3D animation movies. This movie is nostalgic for the adults and it is fun and cheerful to watch for the kids. The plot in this movie isn't too complicated, and it doesn't have that much structure or exciting turn of events. It is mostly a gathering of events from Tove Jansson's books put together, and it is all linked together by Christmas. I like how they included so many familiar characters all in one movie. 
This movie had a bit too slow tempo for me, but it also made it possible just to sit, relax and enjoy all the nostalgic characters and stories behind them. 
2/5 

Latest posts by Hugh Clack
(see all)