This is my first being in a country different from mine during winter, I am from Nigeria, and in Nigeria we don't have winter. I travel to other parts of the world during summer for vacation. All my life I thought snows were drops of cotton wools falling from the sky, I even planned to taste it someday. I have always fantasized about singing, dancing, and building a snowman in the snow someday. I am loving my winter experience here in Finland and my snow experience started here in Kouvola in November.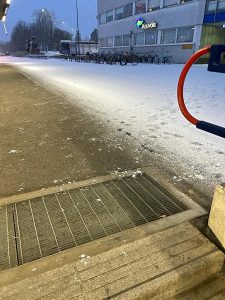 On my first experience with snow, I realized snow comprises of an individual ice crystal and they form varieties of shapes when they turn into snowflakes, it doesn't surprise me because I have always heard that no two snowflakes are the same, I haven't experienced heavy snowfall, but I know it's going to be fun. One thing I really don't like about snow is how iced and slippery the ground gets after some time, I never thought that was going to happen until I had a big fall. Its an amazing feeling witnessing snow especially for me coming from Africa.
One thing I noticed about snowfall was that when it touches your skin it feels like droplets of water whereas It's just ice crystal. Snow changes the look of the environment by making it look more beautiful and colorful. During snowfall (winter) we have a customary mode of dressing which are the winter jackets, winter boots, head warmer, hand gloves and mufflers. The beauty of snow is when it falls because you don't get to see the green leaves, everywhere becomes white and beautiful. The leaves that withered away also becomes white.
I got to build snow man, it looks terrible, but I am trying.
HERE IS MY SNOWMAN
Latest posts by Rahmat Hassan
(see all)