Online Purchasing: Killing off local retailers?
Ever since the birth of the online store, there has been much debate about the Internet adversely affecting local retailers. Offering a vast selection of products in all shapes, sizes and colours, lower overheads, reduced prices, and a global reach, the online store can beat the local retailer in many ways. There is only one small setback for the online store – delivering the product to the customer takes time – however, the ability to offer free delivery and returns mostly offsets this waiting time.
Local stores enable customers to see, touch, and smell products with a view to making a purchase. This tactile environment can help bring the customer to make their purchase decision, along with helpful advice provided by a salesperson in many cases. With the added bonus of being able to take your purchase home with you there and then, usually seals the deal.
However, what happens when the store doesn't carry all of the products on offer? Maybe they only have certain showroom models that enable a customer to see a sample of the product, but the actual item might still need to be ordered for delivery – very common in many high-end furniture stores for example. Possibly the store carries products that a customer can take home with them, but they might not have all of the offerings from that particular manufacturer, so the customer is limited to what is seen. Buying a brand-new car? Most will need to be ordered from the factory in any case – but we would rarely make these kinds of purchases online. So, in this way there is still the need for local retailers, stocking products that we can experience with all our senses, even if sometimes we will need to place an order and wait for our purchase to arrive.
In the late 1990s and early 2000s, Internet purchasing of physical products was still a relatively small percentage of overall purchasing habits. The main issues were of trust – is this online store trustworthy or are they going to steal my money? – and of availability – can the product be delivered to my address? In the last 5 years alone, online purchasing has risen dramatically, with online sales more than doubling since 2014, and the growth is predicted to continue (Statista.com 2020). Manufacturers have also got wise to the Internet and how to make use of a zero intermediary sales channel – thereby eradicating the issue of trust as we are dealing with brand names. Add to this the proliferation of purchases made with mobile devices (mCommerce) and easier access to the internet whilst on the move, and we can see that customers are themselves embracing this technology enabled purchasing experience.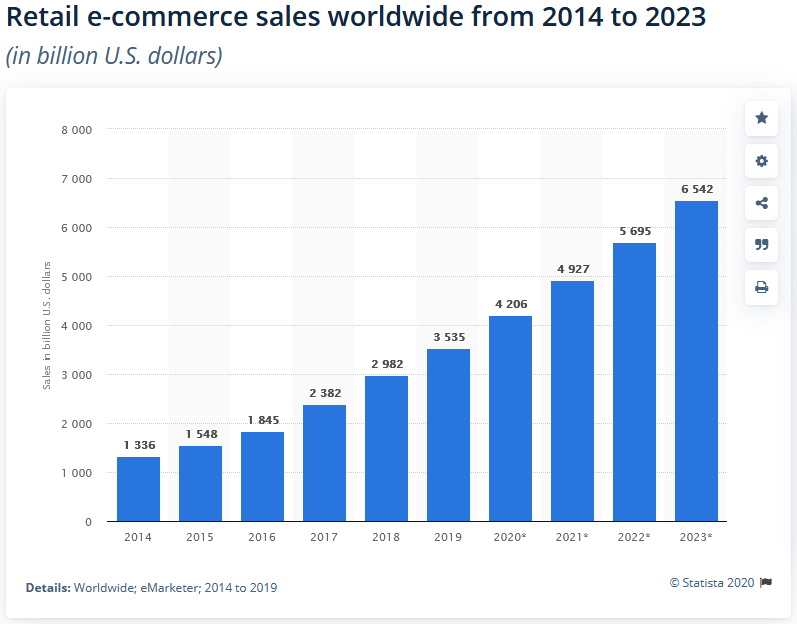 At the same time, online retailers have managed to grow and grow, with some becoming household names in their own right – just look at Amazon. With delivery times being drastically reduced to just a couple of days, overnight, or even same day in some cases, the issue of having to wait a long time for your precious purchase is now mostly a thing of the past. Add to that the ability for you to track your package as it makes its way across the world to your home, and you feel a continued part of the purchasing process – a connection.
Local retailers have had to compete with the Internet at many levels, but for some years have started to embrace rather than compete. The dual business model of online, and bricks & mortar stores, have in many cases merged into one, with retailers having their full offerings online and selected products in physical local stores. This brings to best of both worlds for the customer – the ability to experience products in store and take home their purchase, combined with a full product offering available online, for example if the size/colour of the in-store product is not to their liking. For the retailer, it also brings advantages – being able to reduce in-store stock but still have all products on offer for sale.
Now we see more and more the hybrid model of purchasing online and collecting in a local store. This could be that the purchase is made online, and then the product is delivered (mostly free of charge) to the local store. However, many stores are now using the system that the customer is reserving the product online and simply visiting the store that same day to collect the item, thereby spending less time on the in-store purchase – something that has now been increasingly fuelled by the current Corona crisis. In this way, local stores are taking advantage of the convenience of online purchasing with the customer choosing when they wish to receive their purchase.
This hybrid model has been adopted by many stores over the last couple of years, and is increasing all the time. One of the leaders in this type of business model here in Finland, has been Verkkokauppa.com – combining the website address with the name of the store, clever. The store has also gone slightly further by offering in-store terminals for customers to be able to conduct the purchase process "remotely" whilst in the actual store. However, even this is nothing new, catalogue stores had been using this business model decades ago, albeit using printed catalogues and paper forms instead of a website.
In conclusion, we have seen advances in technology allowing both stores and customers to make the purchase experience more streamlined and efficient, and one where the customer has more choice in how, when, and where the purchase decision is made. Local stores are no longer at the mercy of the Internet, far from it; they have mostly taken up the challenge and are prepared to compete on a global scale, at a local level.

Latest posts by Hugh Clack
(see all)