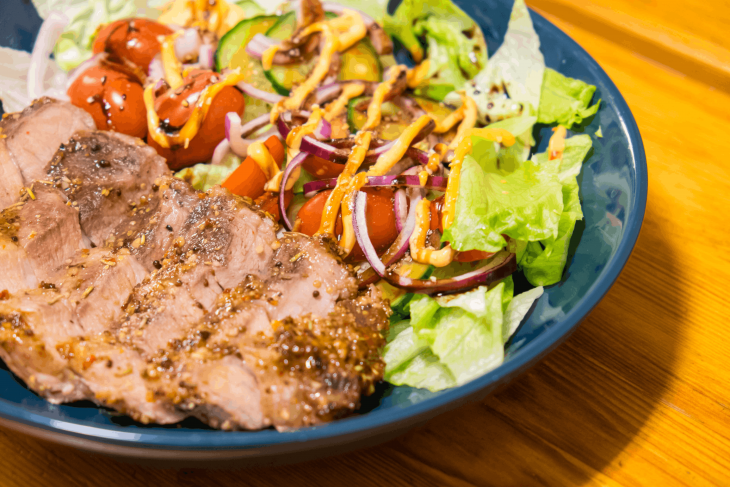 Have you ever gone through the situation when you read through school's menu for tomorrow lunch and find nothing matches your taste? But you are so fed up with boring sandwiches, or find out the inconvenience of bringing a "fancy" home-made lunch?  This week we Insider will show you a simplified version of a healthy quick and easy-to-go steak salad. All the ingredients are very easy to find, available in every supermarket and "wallet-friendly". Light enough for a lunch but still full of nutrition, either you are on diet or not, this is an ideal lunch recipe for you to try!
Total time: 30 minutes
Ingredients:
Pork shoulder (Kassler) – easy meat part that keep moisture well
Honey
Butter or oil
Whole grain mustard
Seasoning: Salt, black pepper, dried minced garlic, dried rosemary
Salad: Iceberg lettuce, cucumber, cherry tomatoes, red onion and any other vegetable in preference, paprika mayonnaise, balsamic glaze (optional)
Instruction:
1.    Preheat oven to 170 degrees Celsius.
2.    Season the pork with black pepper, salt, dried minced garlic, dried rosemary and whole grain mustard the set aside.
3.    Prepare the salad by chopping the lettuce into medium slice and add the rest of the salad ingredients. Top with mayonnaise and some balsamic glaze for the sweet-tart taste.
4.    In a skillet, add some oil or butter and sear the pork over medium-high heat until each side is brown. Transfer pork to oven and coat the meat with a little honey then roast for 5-15 minutes depends on how much moisture you want to keep.
5.    Finally, slice and serve all in one dish! Or put in the lunch box and refrigerate for the following day.
Latest posts by Van Trang Le (see all)