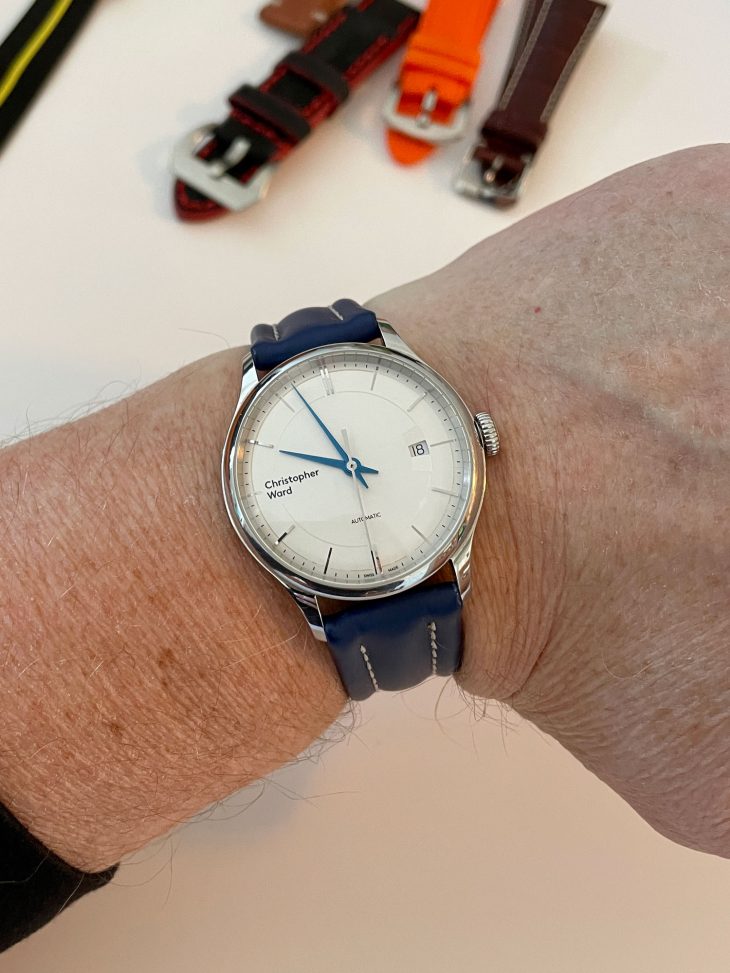 Designed for fit and comfort – finding a high-quality replacement watch strap
In a previous review, I discussed the merits of various watch strap brands, styles, materials and colours. With the multitude of third part manufacturers that have risen in the last couple of years offering online sales of replacement watch straps for everything from A to Ω (or Apple to Omega), and prices running from a few Euro to sometimes several hundred, you have to wonder what is the difference. In this review we look at several straps from basic nylon to luxury leather, from practical to stylish, I will discuss their design, material, and comfortability. All of the straps in this review were sent to us by Panatime.com an online retailer of high-quality replacement watch straps.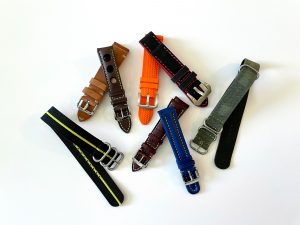 Starting with the NATO style straps, there is the black single pass nylon with a yellow stripe running through it and 3 rings, and the more common style of dual-layer pass 4-ring canvas strap. NATO style straps run through the springbars and are either a single-pass (as the black & yellow version here) or they have an added piece of strap that helps keep the watch head from moving around and is considered more secure (as the olive drab version shows). My personal opinion of NATO style straps is that while I like the look of them attached to a watch head, I can never get them comfortable or looking good on my wrist. Having said that, the black & yellow nylon matched the Tag Heuer Aquaracer rather well due to the colours, but the fit just didn't do the watch any justice. However, pairing it with the Sinn 104, it actually looked and felt quite good. I suppose it really does depend on the lugs for fitting. Although the strap is nylon, it is of very high quality and has a heavy-duty feel, with excellent finishing. The low price certainly belies the high quality of this piece.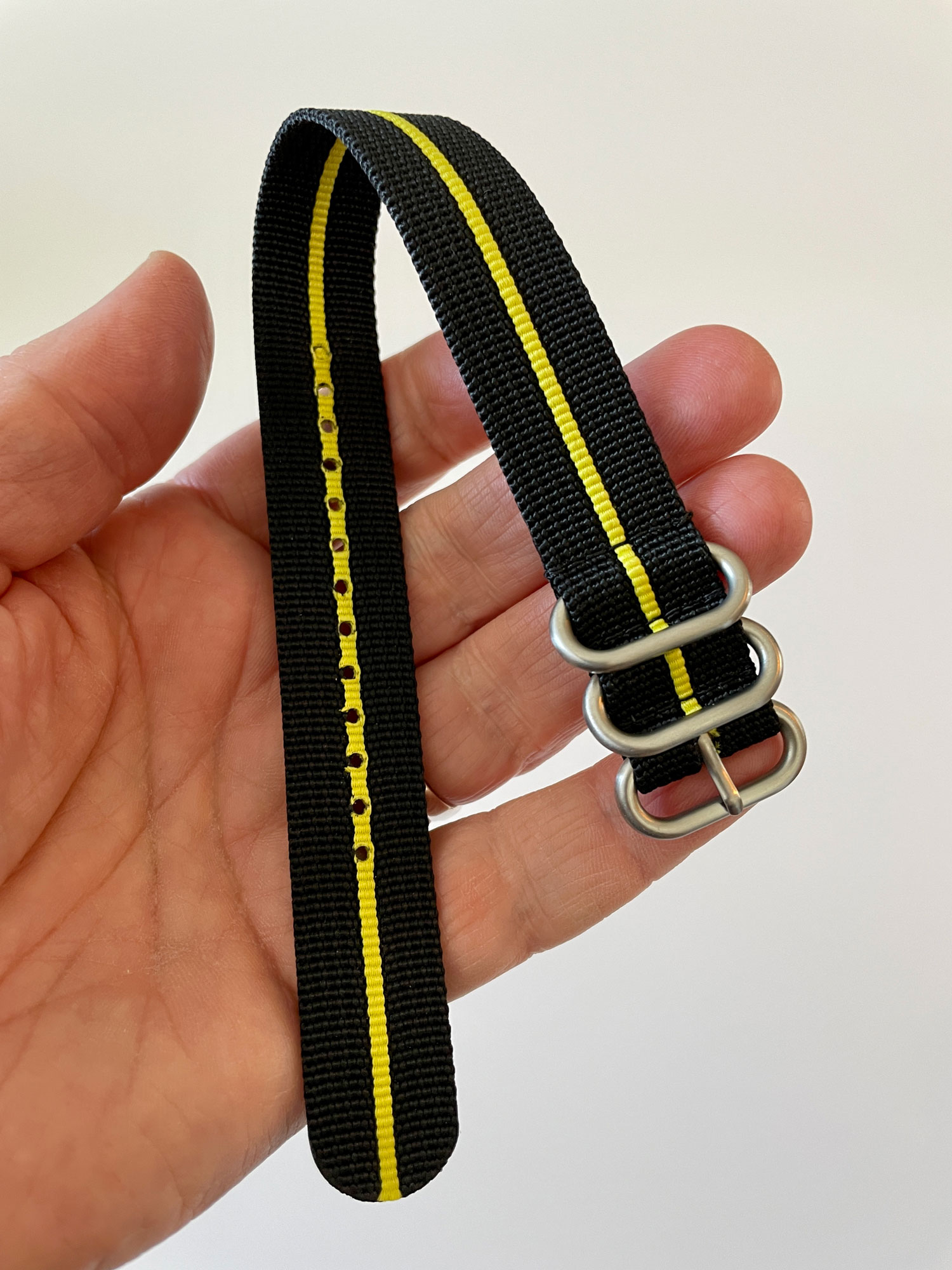 The canvas olive drab was another surprise. The canvas is soft and supple, and has a very soft leather backing. The quality of this strap is clear in the look and feel, with good stitching and highly polished rings, and a slight worn look to the canvas. Again, this paired very well with the Sinn and fitting was comfortable, although the strap was a lot longer than the nylon so there was a lot of excess to tuck in. I would suggest you need at least a 19cm wrist to pull this one off. This would be an excellent strap to pair with a field or tool watch.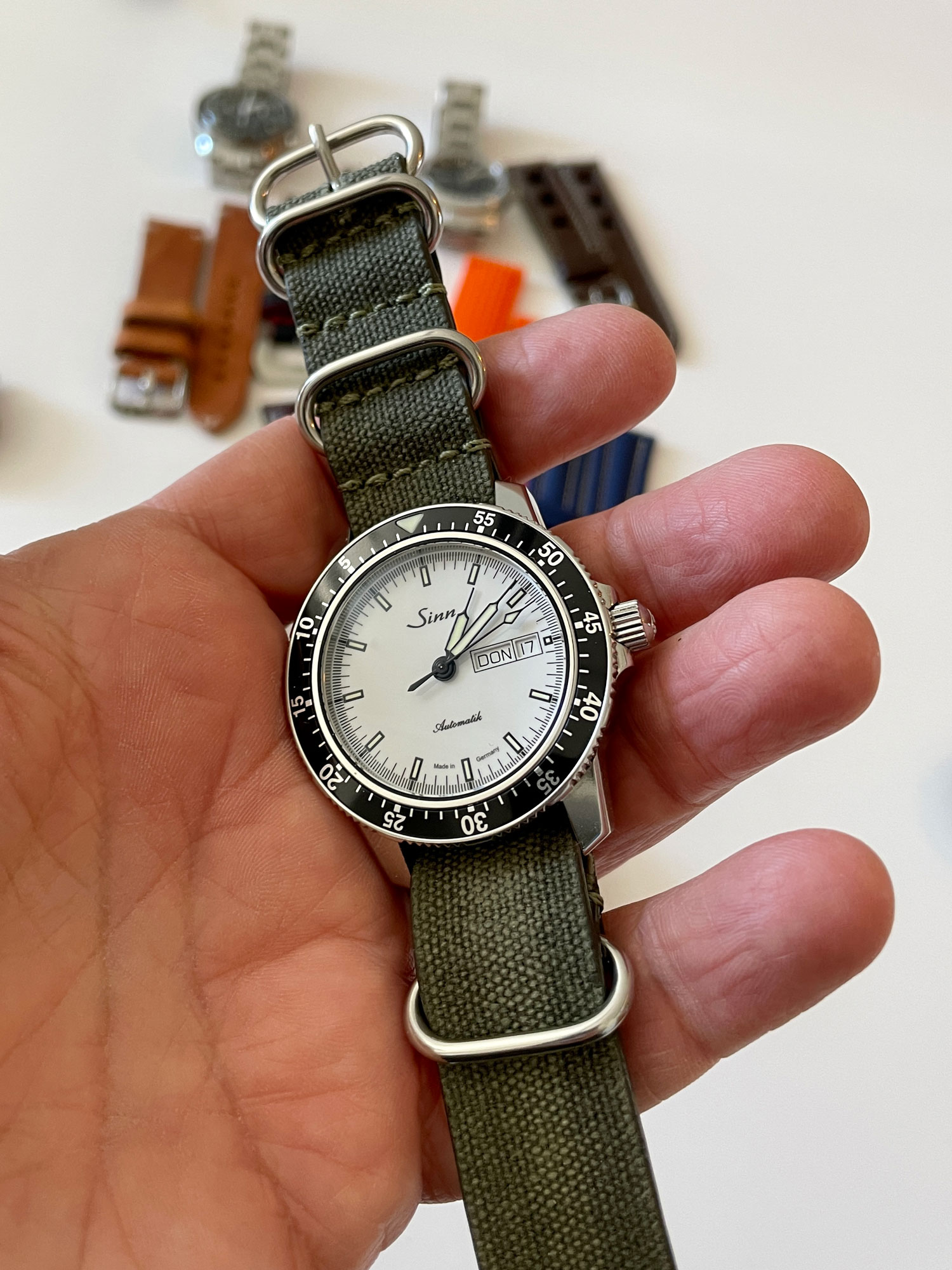 Moving on to the only rubber strap in the group, and an extremely vibrant orange colour, the Panatime tire track [I would call it tyre tread. Ed.] is very soft and subtle. The one we tried was 22mm and is a very chunky strap, so it needs fitting to a large watch head. It paired very well with a Christopher Ward Elite 1000 diver, and a Casio Protrek. Despite being slightly large, the strap was comfortable on the wrist, tapering very slightly to the buckle, and looked quite good – certainly noticeable!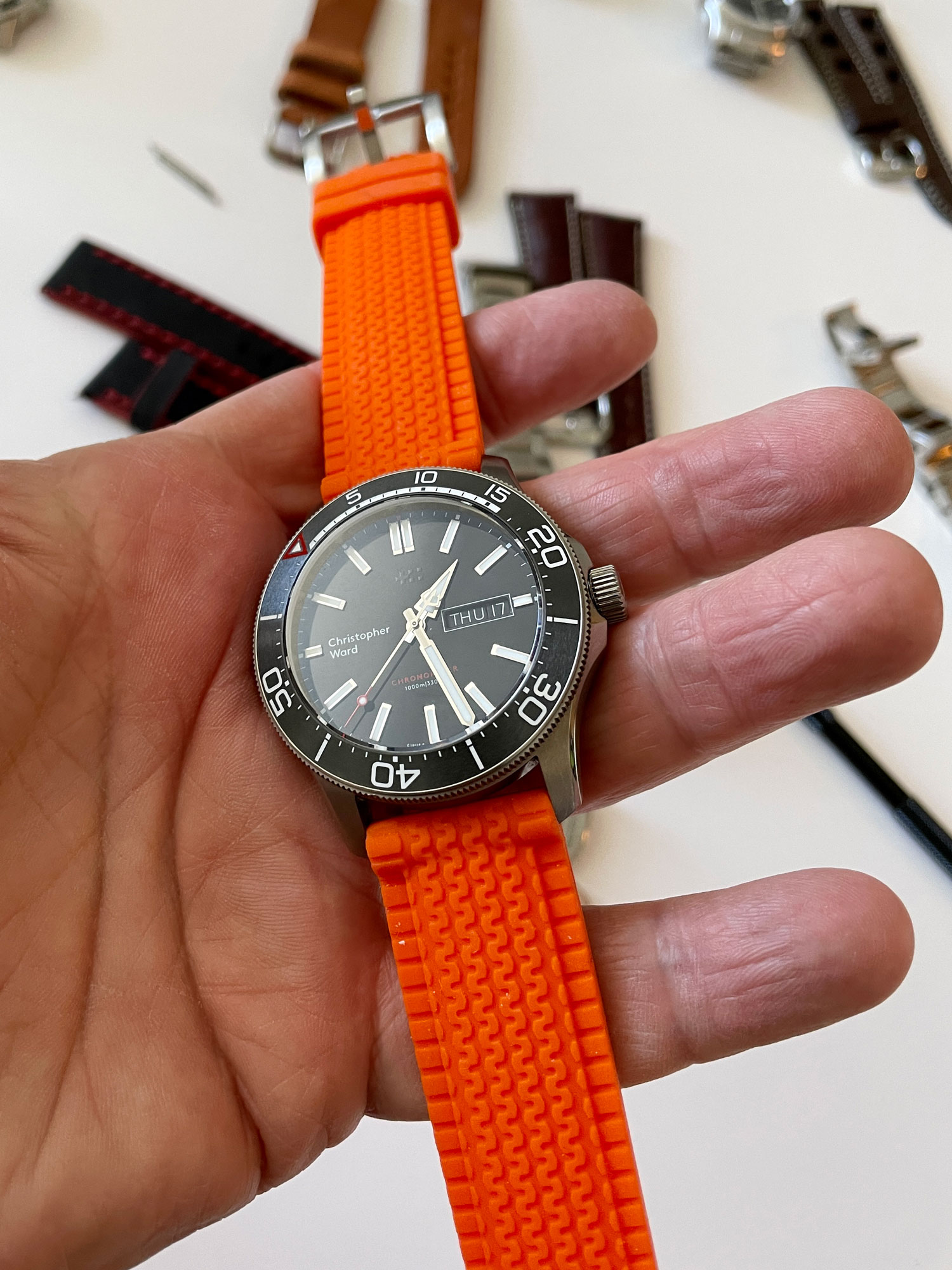 Moving on to another 22mm strap, the Panatime Mustang 2 in black leather with red stitching. Another high quality piece of leather with a luxurious matt finish, some serious red stitching, and a red rubberised compound running around the edges to finish it off. This paired up well with the Christopher Ward Elite 1000 and the Casio Protrek. This is a very heavy-duty strap, being a whopping 5mm thick and having a seriously huge buckle almost 35mm wide. Whilst this stap is comfortable on the wrist and is quite soft and supple, despite how it looks, the fact that it does not taper and with that enormous buckle, means this strap has some serious wrist presence so a beefy wrist is needed to pull it off.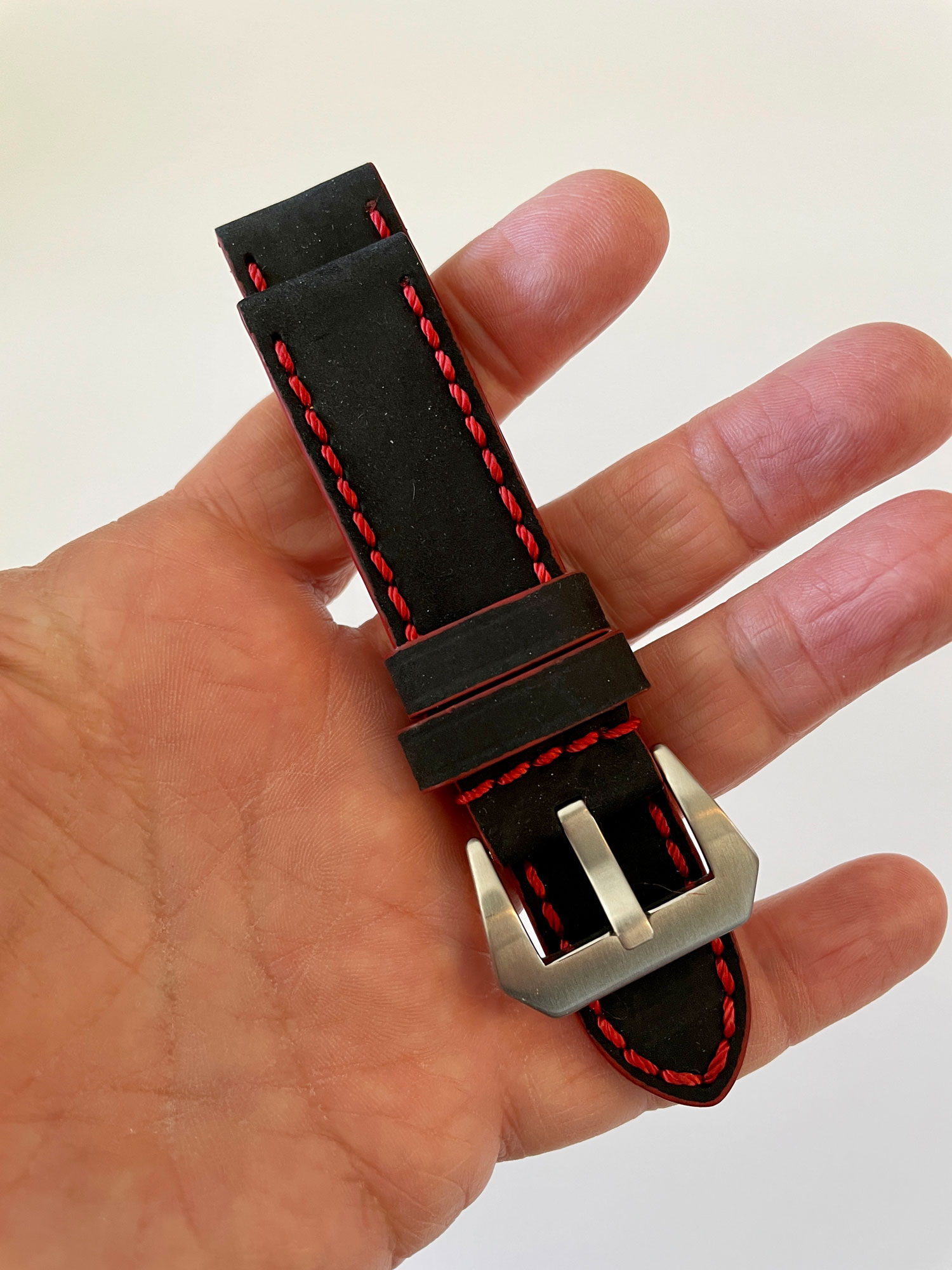 Two other 22mm straps were included in the mix, a RIOS vintage oiled leather and a RIOS shell cordovan burgundy embossed leather. The vintage oiled leather is another of those heavy-duty looking straps but proved to again be soft, supple, and comfortable on the wrist. Tapering down to around 20mm, this strap works well for someone who wants a serious looking piece of leather when desk diving at the office or just for a more casual look. On the other hand [sorry, watch joke, Ed.], the padded and embossed shell cordovan, while not really something you would normally pair up with a dive watch, gives a slightly more formal look if you want to dress up. Both of these were paired up with an Orient Kamasu and certainly gave the watch a whole new look. I particularly liked the vintage oiled leather for its wrist presence and complementing the watch itself, and the shell cordovan for making the watch seem to wear smaller. Once again both are extremely good quality pieces.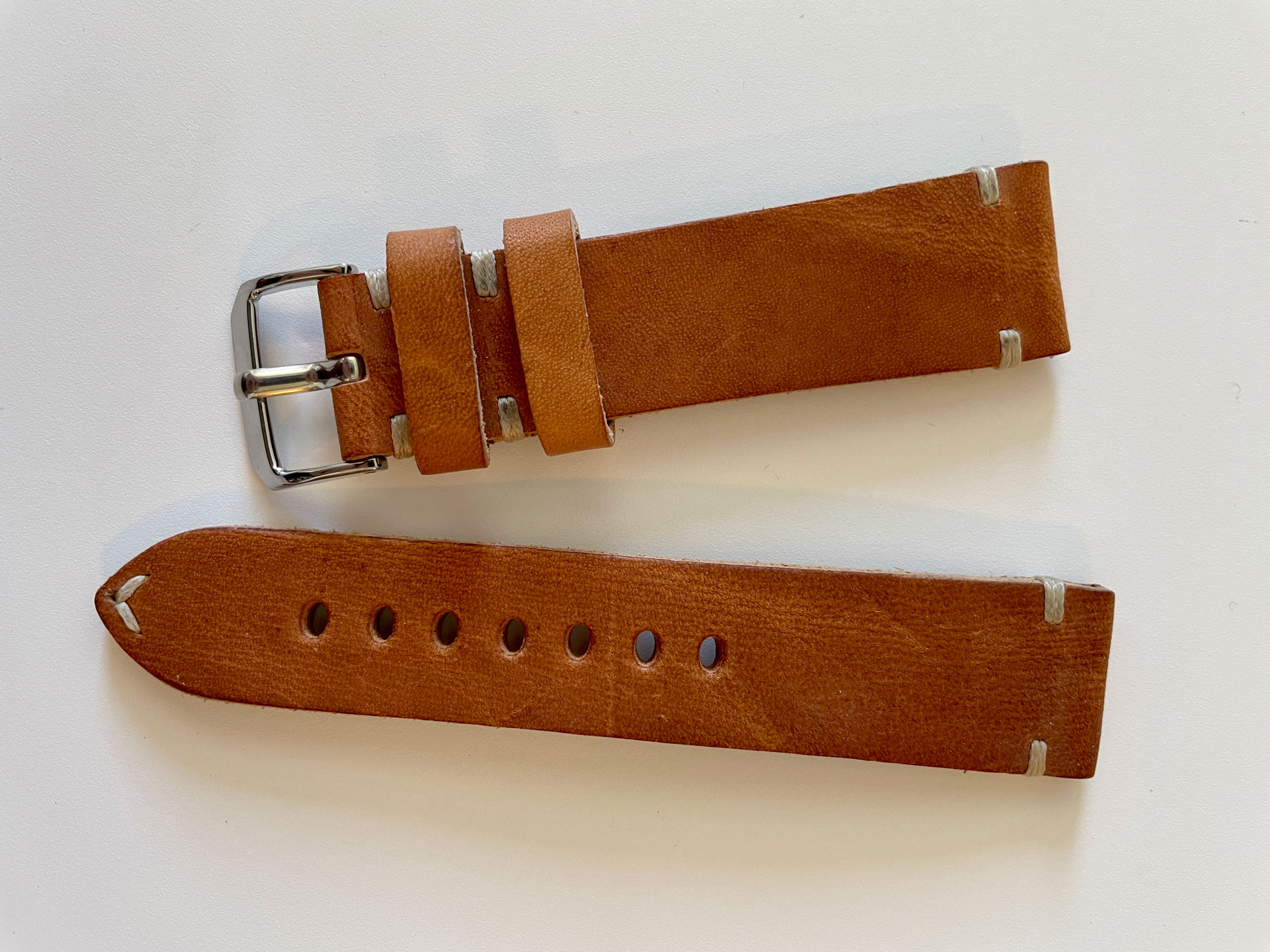 Finally, we come to the last two in our review, the RIOS Kaluga mocha tanned leather with racing holes (no, they don't make your watch run faster), and the RIOS Maranello calf leather in royal blue. Both of these were in 20mm and were fitted to a few different enough looking watch heads to see how they compared. Both straps were quite stiff at first, but felt as though they would be easy enough to break in and wear well. Once again, the quality of these two pieces is superb, from the finishing on the leather to the attention paid to the intricate stitching. Racing hole straps (also known as rally straps) are again one of those straps that I think look good on some watches, but they are not to everyone's taste. The look of the racing holes didn't really appeal to me on any of the watches I tried it with: Omega Speedmaster, Sinn 104, Christopher Ward C65 Vintage, and a Certina DS-3. Despite really wanting to like it I just felt that something was not quite right – perhaps the racing holes were just a little too big – the fit and feel was great, just that the look was not really for me.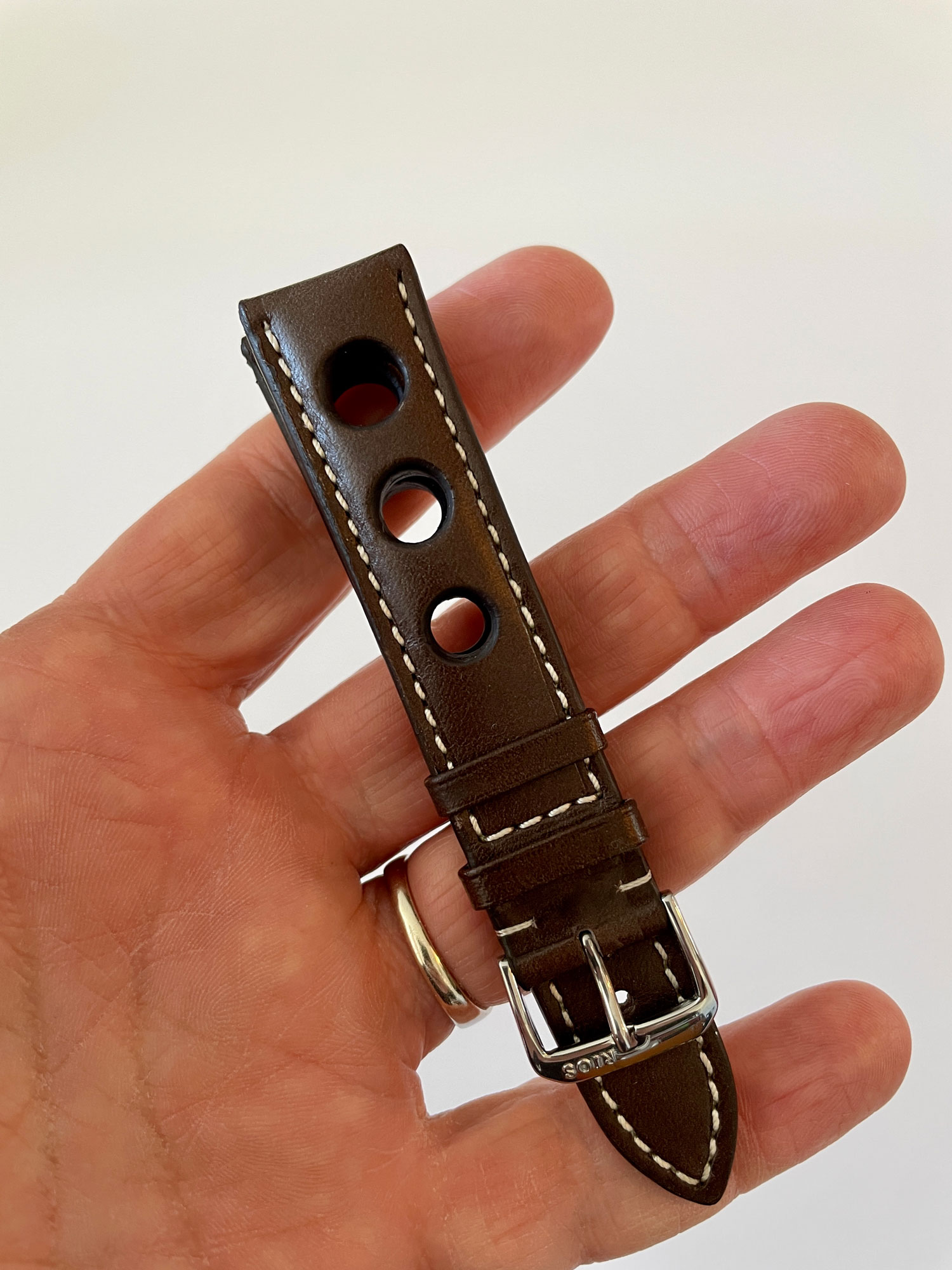 The Maranello on the other hand [sorry again! Ed.], surpassed my expectations. I never used to be a fan of blue straps, or blue watches come to that, but I have a few in my collection now. This strap looks and feels the part. The soft quality of the calf leather is apparent from the first touch and the ridged padding adds to the look. The colour of the blue is just the right shade, and the polished buckle is nice and clean without the RIOS name embedded in it. Seen here paired with the white dial Christopher Ward C3 Malvern chronograph, and the Christopher Ward C5 Malvern automatic, it matches really well with the blued hands and really enhances both watches. On the Seiko Presage Sharp Edge with its blue 24-hour bezel and blued GMT hand, it helps to bring out the sharp details of the elaborate white hemp leaf patterned dial. The strap even manages to hold its own and draw attention to itself when matched with the blue dialled Omega Aqua Terra. Whether paired with a white or blue dial watch, or just blue hands or blue highlighting, this strap looks and feels great and I can highly recommend it.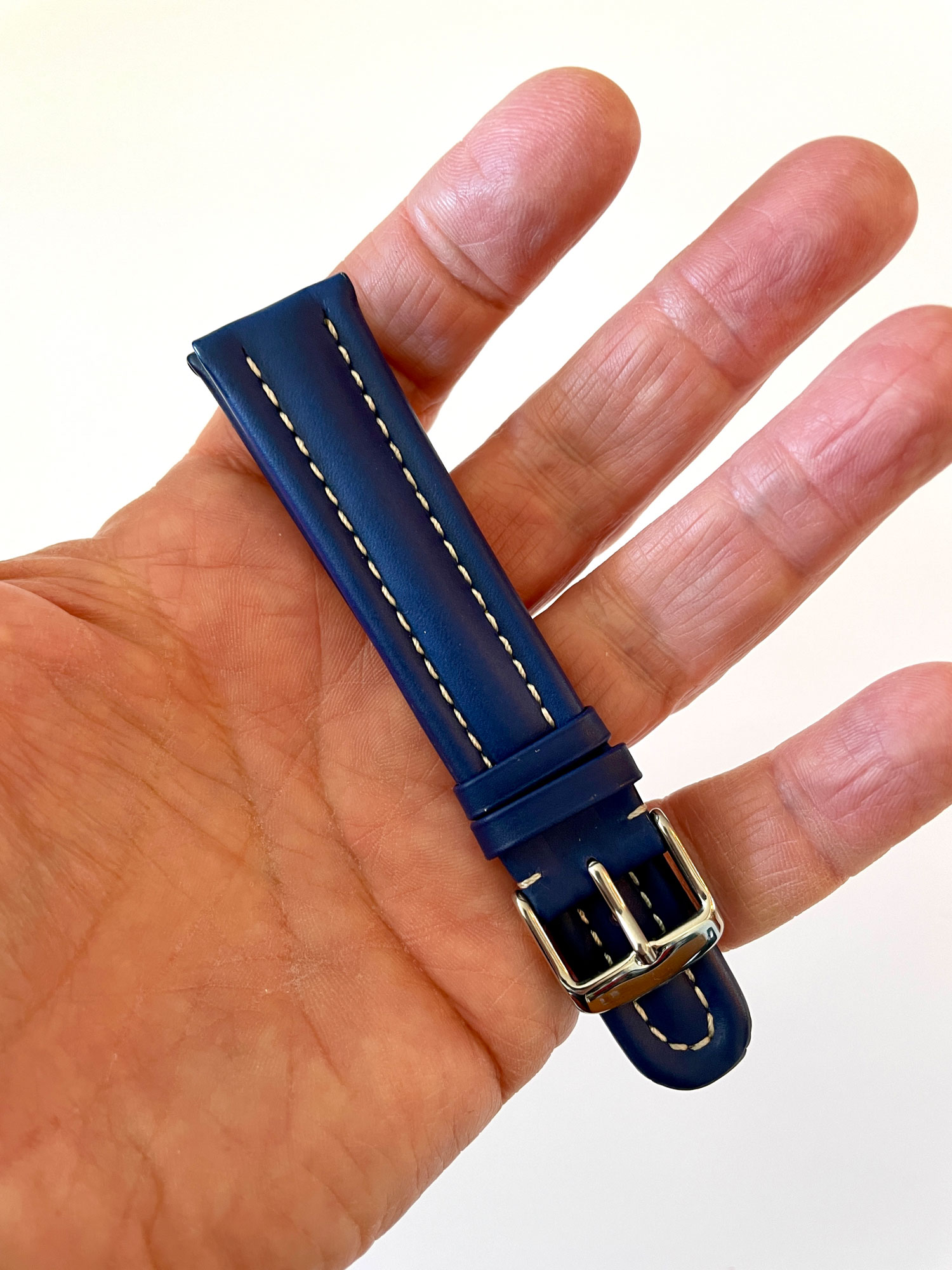 In conclusion, we very much enjoyed trying out so many different styles of straps and have to say that they were all of an extremely high quality. From the quality and feel of the materials to the details and finishing, we were not disappointed with any of the pieces on that score. In fact, we were very pleasantly surprised by a few of the straps and might have found some new looks for our watches. My personal favourites from this round up? Well, it is honestly hard to say as every strap is so well made and looked and felt so good. However, with the watches that I tried, three stand out for my collection, the Panatime Mustang 2, the RIOS vintage oiled leather, and of course the RIOS Maranello in blue. On behalf of Insider and myself, I would like to thank Anthony Cappa at Panatime.com for reaching out to us and supplying the collection of straps seen here. If you want to see more from Panatime visit https://panatime.com
I hope this review helps you in choosing your next online watchstrap retailer and that you find some variation in your daily wearer.

Latest posts by Hugh Clack
(see all)