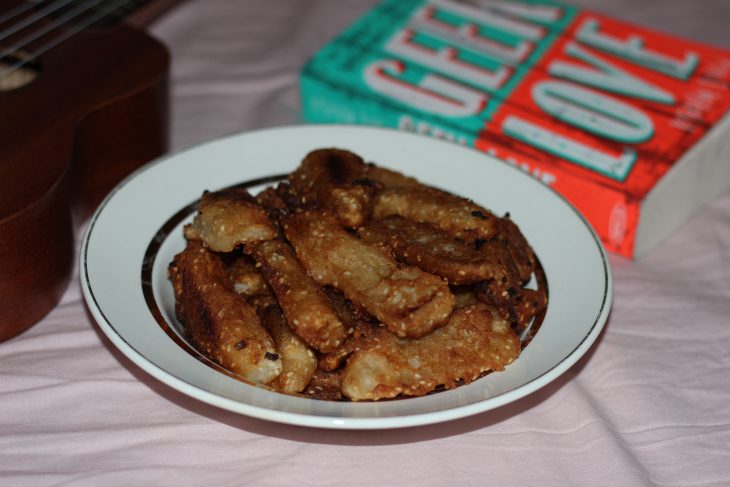 Pisang Goreng – the ultimate banana snack from the Southeast Asia region. We do have our own version in Vietnam but since this recipe is more well-known and the two are quite similar anyways, let's focus on Pisang Goreng for now. It is basically deep fried bananas, which means you can both enjoy the crispy batter on the outside and the sweet and soft taste of ripe bananas on the inside – a win-win! As unhealthy as it is, I recommend you do not eat this addictive snack every day, but every two days is completely okay, go ahead. Here are the ingredients and instructions:
Ingredients:
4 ripe medium-sized bananas (I used 6 small ones)
1 cup and 1 tablespoon all purpose flour
1 egg
2 tablespoons sugar
½ cup milk (preferably coconut)
1 tablespoon oil
½ teaspoon vanilla extract
1 teaspoon sesame seeds
Instructions:
Slice the bananas into 4 slices, lengthwise and widthwise. Set aside.
In a large bowl, combine egg, milk, sugar and oil together. Once mixed well, gradually add flour and mix again.
Add vanilla extract and sesame seeds to the mixture. You can also add toasted coconuts and finely chopped peanuts according to your liking.
Once you got a smooth mixture, dip the banana slices into the mixture until fully coated. In the meantime, heat up a deep fryer or a heavy skillet on the stove with enough oil to cover half of the bananas.
Fry the banana slices until golden brown and crispy. Remove them from the oil and let them cool on a paper towel lined plate for a few minutes.
Serve them while they are still warm. Drizzle some coconut cream on top if you feel a bit fancy.
Voila! An interesting twist on a versatile fruit that we all eat. But instead of putting it on a pizza like our beloved neighbor *coughs* Sweden *coughs*, us Asians turned it into a yummy snack. Hope you all enjoy this week's recipe. Stay tuned for the next issue where we will bring you a special edition of Recipe!