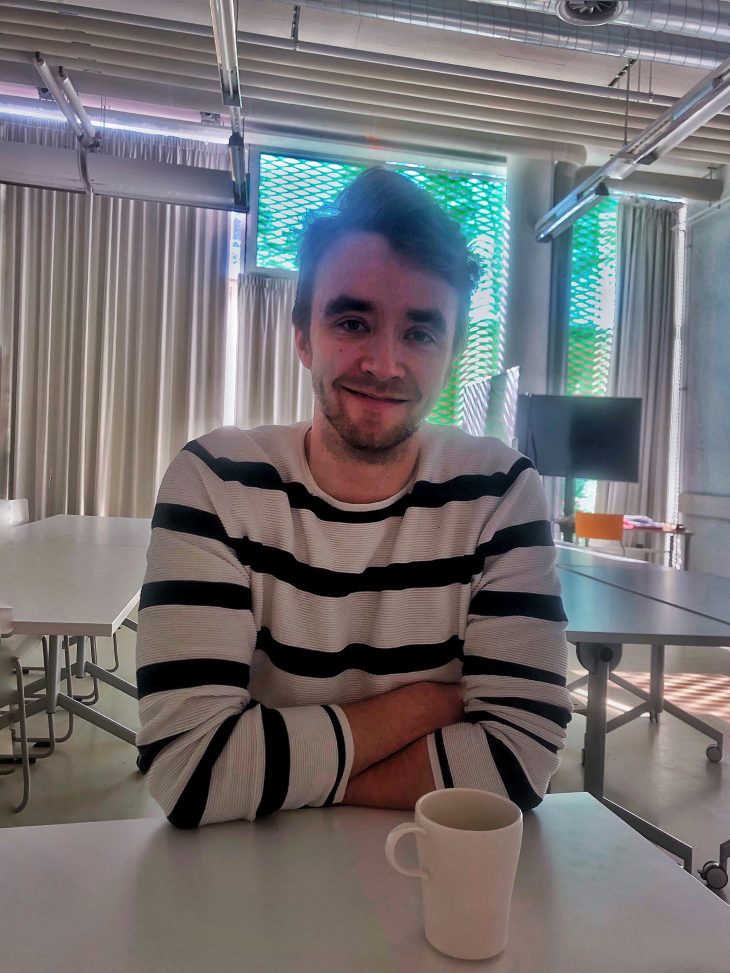 It was one of the first sunny and warm spring days in Kouvola, when Antti and I grabbed cups of coffee in Paja and had our conversation. A few minutes after we took a seat, Antti has noticed electro piano standing in the corner:
About 4 years ago, when I was a student in Mikkeli we had Hard rock band and even though we were playing cover songs all the time, we were feeling ourselves like a real Rock stars. *laughs*
Once it was a student party and we were playing there, we didn't sleep at all and went to the lessons next day… Funny days.
I can imagine, it should have been a real challenge for you. As I know, you are working in XAMK right now. Are you planning to stay here?
Now I think to study master's degree. The only problem is how to mix up working time and studies. Besides, I have not decided yet about my specialization. I have always loved international environment and participation in such projects as StartUp Passion. That is why I think I will study International Business. One of my dreams is to work abroad and IB can hep me with that.
You have mentioned StartUp Passion Project, can you share some background story about StartUp Passion?
This project has been started in 2015 and I have joined them in 2018. In the beginning my job was to be 'Social Media Guy' to get the atmosphere of the competition through the social media. Moreover, I was also invited to help with teams. Soon we have realized that using social media is very perspective. That is how an idea about making the film about the project came out, we wanted to make it educational and funny for students at the same time.
Honestly, I really loved the film, because I felt the real spirit of 'start-up world'.
Thank you so much. It was a very creative, but challenging process. I think if the project goes exactly how it plans it can be a failure then. Tomorrow can change everything.
What was your favourite moment while working on this project?
One of the biggest learnings for me was to know all these great and determined students. Unfortunately, sometimes people do not realize their full potential. One of the biggest motivations for me is to help students find out what they can be.
Now you are working on the new project: StartUp Connect. Can you say a few words about it?
The idea of this project is to make students solve real business problems in a team. Besides, if we see that one team works very well together, and students have innovative and creative ideas, we can help them to form a new start-up.
Will it be multinational project, involving students from different countries?
Yes, we are cooperating with ITMO University. I did not know that before, but in Russia, especially Saint Petersburg, people actively participate in start-ups, and hype around it is getting bigger. That is why, we want to start make more and more projects together.
Do you have any hobbies for stress relief after a busy work day?
I play guitar and piano. Besides, I like to go to gym, play badminton & squash. When I play or exercise, I feel more energized. My other passion, almost a hobby, is chocolate.
So, you are like a chocoholic?
*laughs* yes, kind of…
As you said, sport helps you to feel more powerful and energetic. What are other advantages of sport trainings for you?
It saves me from procrastination. For example, when I am sitting on my couch, watching Netflix (I love Netflix), and feeling tired or even depressed. The best thing is to get up and go to the gym. After even 15 mins training this mood always goes away. It was one of the greatest learnings for me.
Who inspires you the most?
From my close circle, I would say my sister. She always brings light into the room, and she is one of the most energized person I know.
What is your life moto?
"Optimist never gets disappointed", because optimist always sees the bright side.

Latest posts by Guest Writer
(see all)