Low-calorie and tasty dessert – juice jelly. It will take about an hour to cook and solidify. Any juice you love will do – just a couple of glasses. Jelly can be garnished with fruits and berries.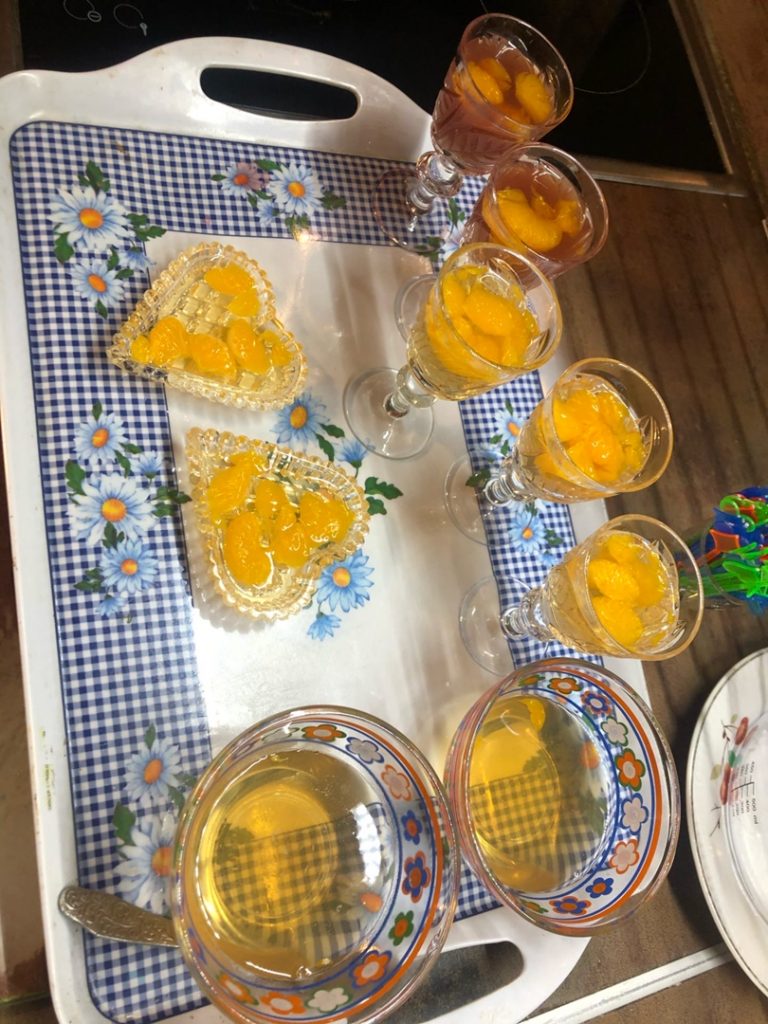 Ingredients:
Juice – 2 Glasses (orange, peach, pineapple, etc)
Gelatine – 25 g
Sugar – 1 tsp
Servings: 4
In a saucepan, combine two glasses of your favorite juice with gelatine. Leave for an hour to swell the gelatine. I have apple juice, so my jelly will be yellow. But you can use any juice you have in your fridge.
 After an hour, add a spoonful of sugar to the juice with the swollen gelatine and send the pan to the fire. Stir the jelly with a wooden spoon until the sugar and gelatine are dissolved. Warm up, but do not bring to a boil!
Remove the pan from heat. Pour jelly into the molds rinsed with water. The bottom of the mold can be laid out with berries or fruits. Due to the fact that I am using orange juice, I will lay out a couple of orange slices. First, I remove the skin and select the bones. The work is painstaking, but it is very pleasant to eat peeled fruits in jelly! I fill the molds with the mixture and leave to cool at room temperature. Then I put it in the refrigerator until it cools. Before removing the jelly molds and the refrigerator, I tighten them with transparent cling film.
Select the jelly from the mold (dip the mold in hot water to make this easier).  Colored juice jelly, served with a scoop of ice cream or whipped cream, looks beautiful.
Bon Appetit!

Latest posts by Guest Writer
(see all)