StartUp Passion – Make your idea happen
Hi XAMKers, it is February and do you all realize that the sun is shining a little bit longer? It is time to recharge your energy after such a long period of darkness. Let start with your brain. Something new have just come up in your mind? Or maybe traveling to other countries for just a few days seeking some new experience? How about both? The answer is here: Apply for StartUp Passion Hackathon now!
APPLICATION DEADLINE MARCH 5, 2018
StartUp Passion in Baltic Sea Region (STARPABS) is a 4 years project from 2015-2019 aiming to raise the awareness and get university students interested in entrepreneurship by helping them to build international teams, develop their business idea and attract new entrepreneurial talent. No previous experience is required, no idea must be prepared beforehand. Of course, it is great if you have, otherwise don't worry because StartUp Passion warmly welcomes everyone. Finnish, international or exchange students… again no matter who you are, all you need is the curiosity about entrepreneurship and a creative mindset ready to create innovative solutions for everyday problems. Participate in the program and get the chance of working and getting advice from the cross-border Baltic community of mentors, teachers and business-minded youth which will definitely inspire you much. And hey, IT IS FREE! Travel and accommodation costs are covered by the project partners of the StartUp Passion project.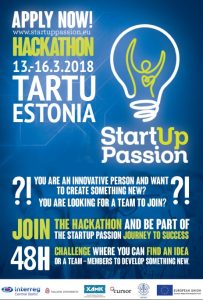 This year program:
March 13-16, 2018 Estonia: Hackathon
April 10-13, 2018 Latvia: Kick off
April-May 2018 online: Pit stop
June 25-29, 2018 Estonia: Bootcamp
Autumn 2018: Competition & from business to success
Some facts about STARPABS:
Duration: 01.09.2015 – 31.08.2019
Implementers: Cursor Oy, South-Eastern Finland University of Applied Sciences, Tallinn University of Technology, SSE Riga, Creative Industries
Total budget: 1 799 982 €
For any further information please visit the website startuppassion.eu or contact our funny and zealous local country Project Manager Sabine Suorsa via email sabine.suorsa@xamk.fi
Latest posts by Van Trang Le (see all)