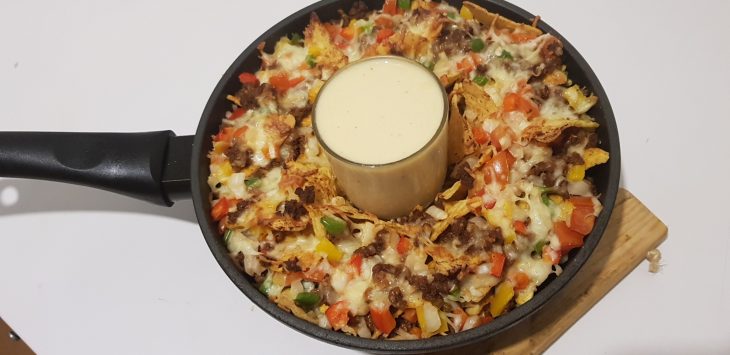 Prep:10minute
Cook: 20 minutes
Ingredient: –
Tortilla chips – of your choice
Ground Beef Mixer:
300g Ground Beef
2-4 Tablespoon Ketchup
water
salt
pepper
chili powder
Salsa:
1-2 Tomatoes
onion
jalapeno
paprika
coriander
Cheese sauce:
96g Milk
225g cream cheese
25g butter
grated cheese
salt
chili powder
Direction: –
Preheat the oven to 200 °C.
Next line the oven pan with foil or spray it with cooking spray.
Get a skillet and cook the ground beef over medium heat for 5-15 min than add oil, ketchup, water and season it with pinch of salt, pepper and chilli powder. Stir the mixer until it has semi-thicken. After that set it aside to cool it down.
Next, moving into preparing the salsa. Chop and combine the tomatoes, onion, jalapeno, coriander, and paprika. Also fill free to add vegetable of your own choice or what ever is in the fridge.
Now we are moving into preparing the cheese sauce. So, get a pan and melt the butter and the cream cheese in a low heat. Add milk than add salt, chilli powder and shredded cheese of your choice. Stir them together until its fully mixed. After that set it aside to cool it down and transfer the ready cheese sauce into small bowl. You could use it as a dip.
Now the grand beef, salsa and the cheese sauce are ready. Our next step, we are combining everything together.
So, take the earlier pan that you foiled or sprayed it with cooking spray and spread the tortilla chips evenly on the pan. Then top with ground beef mixer and salsa.
Finish it off with shredded cheese and little bit of the cheese sauce.
Put it in the oven for couple minutes or until the cheese has melted.
Take out of the oven and serve the nachos with the cheese sauce.

Latest posts by Hafsa Farah (see all)