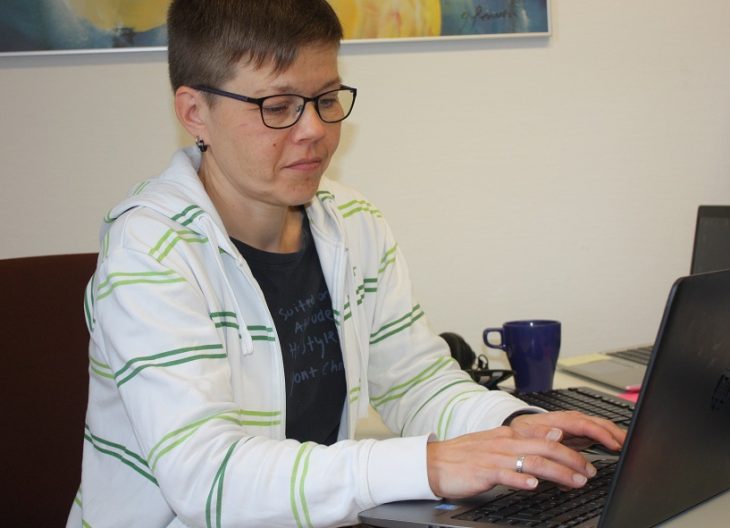 Sara Ojaniemi
Hi! I'm Sara! I study Design service at Xamk.
I've been living in Kouvola for 4 years now and moved here from the capital area where I was born and I grew up. I moved here for relationship reasons and now I'm a mother of two daughters
I have a background in the graphic industry area. I worked almost 20 years in two differentlarge companys in the digital printing business, doing basically costumer service, file managment, production, post production.
In 2016 I moved to Kouvola. Even for me as a fin was a culture shock, coming from Helsinki to live to Kouvola. Still to this day, a piece of me belongs to Helsinki but I adapted here as well. There are some advantages here like there's less byrocrasy, It's more quiet and less traffic. Beautiful landscapes as well.
It was very difficult to find a job in the area that I was was working. Whenever you find it difficult to get a job, you can always ask for jobs from rental companies. Through rental companies, I did different jobs like delivering mail and in the metal industry for almost 2 years. That wasn't my field for a long term job. So that's where Xamk came in. I was looking for different study options in different places but Xamk was the most convenient for me. At first, I thought to study something like marketing or business. Then I discovered service design.
Service design is about making things work better order and there is room to make a better product or service everywhere so it can fit in every industry. My goals now are to finish fast and find a job. At the moment I'm interning at Xamk with a design academy project. That is about developing the education of design in Finland overall I found out that it was amazing oportunity that I could do it here at Xamk. So I gave it a try. I think I have one of the best views of all projects that are using design in this area. Cause there are many different projects that can use service design like traveling, business, etc.
My job is challenging but interesting and I can educate and develop my self further, never to stop learning. Xamk gives great effort and it's worth coming to study. One of the good things about Xamk it's a big instituion and very cozy and warm people are helphul and nice.

Latest posts by Arian Ukaj (see all)