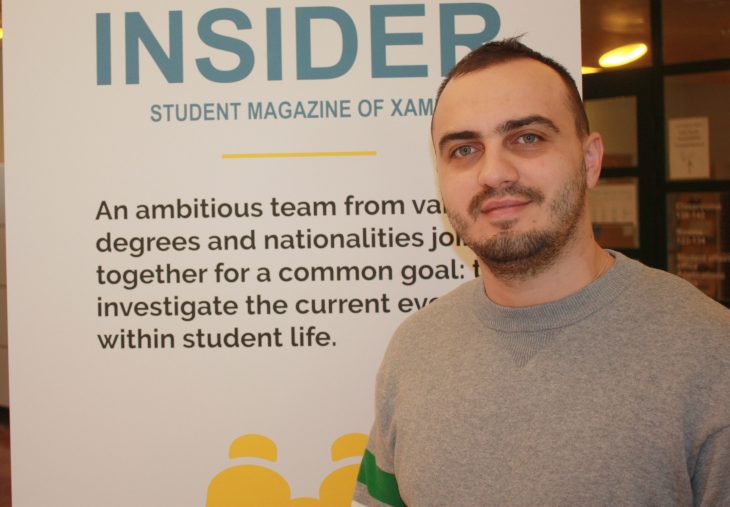 Hi!
I'm Arian. I study Digital international business in Kouvola.
I came from Kosovo to Finland like four years ago, it was November and it was the typical Finnish weather, I missed the sun for like first three weeks.
In the beginning, I went to the Finnish language course for about a year, after that, I've been doing a different kind of jobs like a bit of voluntary work, delivering newspapers, restaurant, cleaning but mainly construction.
By the time I finished the language course, I could speak a bit of Finnish and easiest way to find a job was to work like a rented worker.
People don't usually need a rented worker for too long and that's what I liked. I usually moved to new working sites weekly.
First of all that helped me a lot to integrate into Finnish workstyle, then working with different people just helped me grow up.
It was challenging but kinda learnt how to fit. Creating new contacts was the best part.
after that, I took a job as a supervisor on a construction site for a guy from Kosovo.
In the beginning, we were 3 workers, after a few months we became 25.
Being able to see that progress from a leading point of view was an amazing and exhausting experience.
I learnt how to manage time and work. making people work together wasn't an easy task either. But then I overcame the fear of responsibility it just wasn't that interesting anymore.
I wasn't growing up and it felt like dealing with circle problems daily. So after one year, I left to join a Finnish company where I'm still working to this day.
I realised it's going to take longer time to learn proper Finnish so I just decided to continue studying in English instead.
My goal is to speak 'fluent' Finnish by the time I graduate.
Being born in Sweden, growing up in Kosovo now living in Finland, International business suits me very well.
In the future I'd like to start an international business probably based in Kosovo since there is lower labour cost and then distribute worldwide 🙂 Hopefully, I can find a team that we share common interest and vision since there are many motivated students at XAMK.
What's your story? If you'd like to share your story or ideas let's have a coffee and talk about it!
send me an email baruk001@edu.xamk.fi

Latest posts by Arian Ukaj (see all)