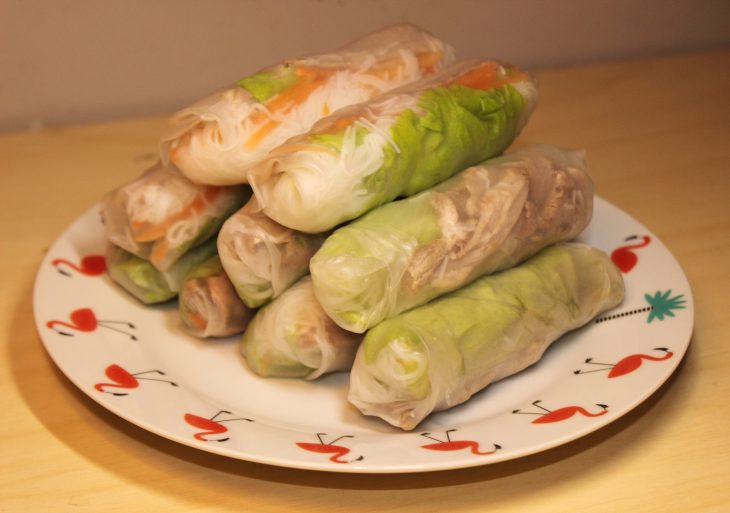 Now I know summer has left us a few months ago, and dark days of snow and icy roads await. But I believe food should be enjoyed whenever you feel like it, no matter the weather. These scrumptious rolls will satisfy your cravings for a fresh, healthy treat after that meaty scotch eggs recipe last week. Plus, I will also show you how to make not one, but two kinds of dipping sauce. Here we go.
Ingredients:
For the rolls (this makes 10 small rolls):
– Rice papers
– 45g rice vermicelli noodle
– 150g pork
– Carrot, cucumber, lettuce and mint
Traditional Vietnamese dipping sauce:
– 70ml fish sauce
– 40ml lime juice
– 80ml water
– 60g sugar
– ½ tablespoon minced garlic
– ½ tablespoon minced chili
– pepper
Peanut dipping sauce:
– 205g smooth peanut butter
– 25g brown sugar
– 10ml soy sauce
– 10ml vegetable oil
– ½ tablespoon minced chili
– water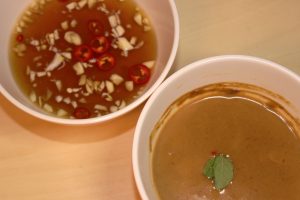 Instruction:
– Soak rice vermicelli in hot water for 5 minutes. Drain with a colander and rinse under cold water for 30 seconds. Leave it to drain again.
– Fill up a pot with water, bring it to a boil. Add pork and cook for ~25 minutes on low-medium heat. When no pink-coloured juice can be seen when pressing on the meat and a chopstick can poke through easily, it's ready. Slice it as thinly as possible.
– Rinse the vegetables. Cut cucumber into slender slices and grate the peeled carrot to the same length.
– Quickly dip 1 rice paper into a bowl of water to soften, place it on a smooth surface. Put lettuce, cucumber, carrot and about 2 mint leaves on top and roll once. Add boiled pork then fold left & right edges of the paper and roll it up. Repeat the process.
– Mince garlic and chili then combine all the ingredients to make the sauce. With the peanut sauce, microwave peanut butter and soy sauce first, add the rest of the ingredients then slowly pour in water till you got the wanted consistency.
– Serve the rolls with the sauces and dig in.
That's it. You are an averagely tricky rolling process away from one tasty dish. I will take a break next week and Seti is going to be in charge. See y'all soon with more recipes!

International Business student at XAMK