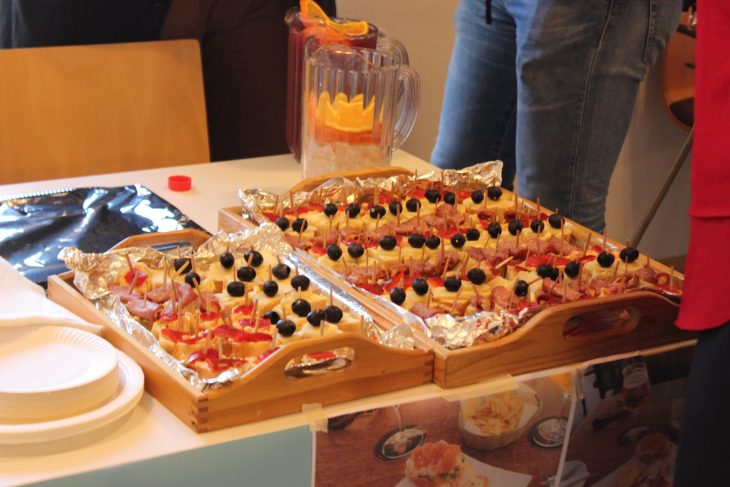 It's been an interesting week. We were able to taste delicious dishes from 18 different countries that was made by the students and staff. Plus, the dishes had lovely textures from sweet, savoury, creamy to spicy. We hope you loved it. We have listed all the 18 countries, their dish names and who made them. So, here we go!
1.China
Chinese representative (Lingli) in cooperation with her colleagues (Kris and Topi) brought Pumpkin Pie and Eggs with Tomatoes to our festival in the 2nd day.
2. Hungary
Hungarian sweet cakes: Pogacha and Opium Pie definitely smelt your hearts. Those fantastic dishes were made by Julia, Lili, Curistian and our staff member- Sara Czabai.
3.Vietnam
Spring rolls (Cha gio/ Nem ran) was represented as a traditional dish by our students who comes from Viet Nam: Long, Tuyet, Kiet, Hung, Tri and Yen
4.Spain
Spanish cuisine and culture was combined into a series of dishes: gazpacho, pintxos, olives, pipas and tortilla. These amazing dishes were made by Jvan, Emma, Jose and Ella.
5.France
The combination of sweet and savory from French dishes: Croque-Monsieur, Crepes and Caramel made a good impression on attendees about this romantic contry. Those food was prepared by Berenys, Julien, Theo, Alexis and Thibaud.
6.USA
The American boy – Leif – represented his culture through a table of full Picnic Food.
7.Belarus
Krystina brought tasty Crab Salad and Apple Pie to impress all the attendees.
8.Germany
Sausage in a rock might interest in previous week's festival because of its deliciousness. Thanks to Meika,Valenlin,Luke and Tomi for preparing this food.
9.Somalia
Somalia was representing on the 3rd day. Their dish was cuscus salad, Basbousa (sweet coconut-semolina cake) and Somali coffee. It was made by Hafsa and Lotta.
10.Albania
Albania was one of the countries that was represented on the 3rd day. They served sheqerpare, fejese and gkespeli a traditional Albanian dish. It was made by Stela and Marija.
11.Belgium
Belgium served waffles with cholate and strawberries. It reminded us the summer times. The dish was made by Vnomken and Monie.
12.Russia
Russia represented their dish on the 1st day. Their dish was Olivie anu with bread a traditional Russian dish. It was made by Dmitri, Viktoria, Mokrushina and Anya.
13.Finland
Finland represented their dish on the 3rd day and the dish was blueberry pie, Karelian pastry and tasty hilla Glöggi. It was made by Tiia, Jenni, Hanna and Francesca.
14.Italy
Italy was represented their dish on the 3rd day. They served delicious cold pasta and it was made by Elena, Elmanu, Saia and Sofia.
15.Pakistan
Pakistan was also represented their dish on the 3rd day. Their dish was pakora, chat and biryani a traditional Pakistani cuisine that was tasty. It was made by Ramsha, Mahrush, Anil and Hasib.
16.Sweden
Sweden served Swedish Oatly, crackers with cream cheese herb and cholates. It was made by Antti.
17.Czech Republic
Czech represented their dish on 1st day. Their dish was Buřty na pivu made by Sasa.
18.Wales
Appetizing Traditional Welsh Cake was prepared by staff member Hugh Clack.

XAMK International Business '17, Kouvola.
INSIDER wll be a limitless inspritation for your creativity and satisfaction to express yourself through photographs and words.

Latest posts by Long Nguyen (see all)