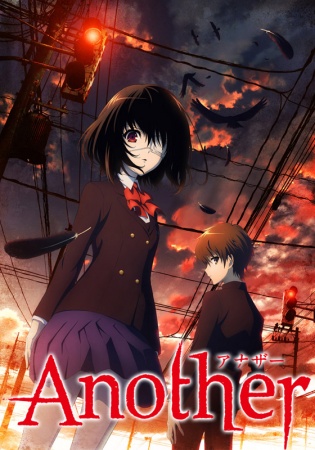 Since I am kind of obsessed with anime this issue I would like to write an article about one of my favorite anime, I actually saw this particular anime when I was about 13 and I loved it instantly, since I was feeling nostalgic I decided to re-watch it and why not then write an article about it.
So Another is basically a Japanese horror/mystery novel first published in 2009 by Yukito Ayatsuji, but then later on between 2010 and 2012 it was turned into a 5 volume manga. That same year, 2012, the television series aired, releasing 12 episodes for Another. I don't want to get into a lot of details about the plot of this amazing article, but I will tell you my honest opinion about it and also some key points of the series.
The series takes place in a middle school, it's the year 1998 but it also shifts back to 26 years ago, the year 1972, in the same middle school. A really loved female student of the middle school 26 years ago suddenly dies, but her classmates continue to behave like she's still alive, until graduation when in a picture of the whole class her faded face shows up. In 1998 the same kind of situations seem to be happening to the students of the same class, where they're all soon caught up in a strange phenomenon, in which students and their relatives begin to die in often gruesome ways. As the series comes to an end two of the students of this class start to realize that the phenomenon of 26 years ago is connected to what's happening in the class of 1998.
As I mentioned before, I personally really love this particular anime, I think it has a pretty clever plot that ends with a brilliant resolution and at the same time the colors are great and the soundtracks as well. I would say though that it's not particularly the definition of horror to me, but depending on different people's point of view it could be seen differently. Either way I would strongly recommend this anime to everyone, even to the people that don't particularly like watching anime.

Latest posts by Stela Demaj
(see all)