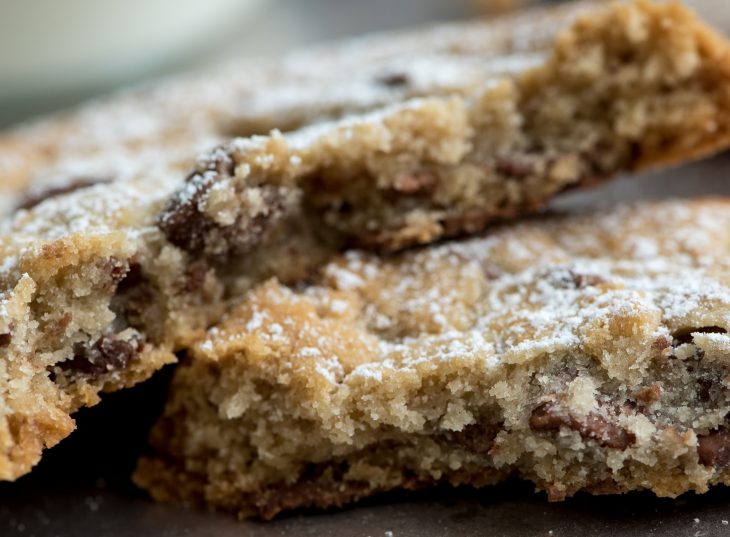 Ingredients
½ cup granulated sugar
¾ cup brown sugar
1 teaspoon salt
½ cup melted unsalted butter
1 egg
1 teaspoon vanilla extract
1 ¼ cups flour
½ teaspoon baking soda
3 oz milk or semi-sweet chocolate chunks
3 oz dark chocolate chunk

The preparation process step by step
In a big bowl, whisk all the ingredients together: the sugars, salt, and butter until a paste forms with no lumps.
Add the egg and vanilla and beat them
Sift in the flour and baking soda
Fold in the chocolate chunks, then chill the dough for at least 20 minutes.
Preheat the oven to 180°C. Line a baking sheet with parchment paper.
Scoop the dough with an ice-cream scoop onto a baking sheet. Bake for 12-15 minutes.
Cool completely before serving.


Tips
For a more intense flavor and texture, chill the dough for 24h.
The longer the dough rests, the more complex its flavor and texture will be.
Leave at least 10 cm of space between cookies and 5 cm of space from the edges of the pan so that the cookies can spread equally.
If you don't have an ice-cream scooper use your hand to form cookie-balls.


(This recipe is for 12 medium-sized cookies)

I wish you will enjoy the recipe.
Bon appetit!

Latest posts by Guest Writer
(see all)