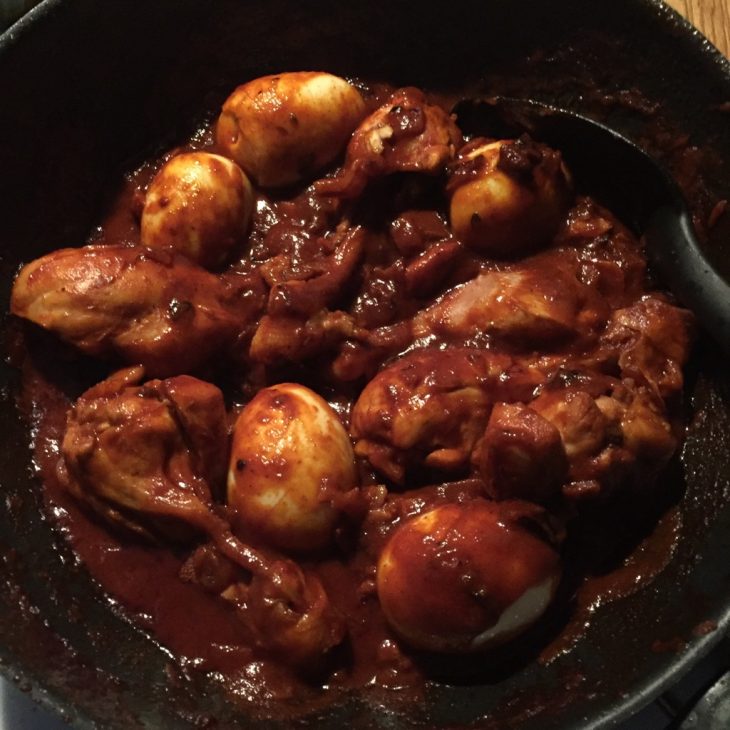 This week's recipe is my favorite traditional Ethiopian dish called chicken stew or Doro wat. This spicy and delicious stew is one of the most popular dishes in Africa and for a reason. It captures the best flavors of Ethiopian cuisine and it will leave you with an everlasting craving. It is served with an Ethiopian flatbread called injera. The combination is my personal favorite of all the Ethiopian dishes. Here is a simple recipe for this recipe.
What you will need:
3 tablespoons of Berbere spice (you can find it in Ethiopian stores in Helsinki), 200 g of Ghee, two onions, half teaspoon of salt, a pinch of garlic, 4 hard-boiled eggs, 3 dl of tomato paste, 4 chicken legs, a pinch of ginger, lemon juice and cilantro.
Boil the eggs and marinate the chicken with salt and lemon juice. Set the chicken aside.
Sauté the chopped onions with the ghee and stir them well. After stirring for 5 minutes, add garlic and ginger and mix for few more minutes.
Turn the heat down and add half a cup of water. Then add the chicken and mix properly. Add then berbere spice and tomato paste. Turn the heat on and before mixing, let the pot heat up with a lid on.
Mix then properly and let it sit for 5 minutes with the lid for the sauce to thicken.
After this the sauce is ready and add the hard-boiled eggs and garnish with cilantro.
6. Enjoy the stew with injera or with simple parathas bread.
Text and pictures by Marian Keinan

Latest posts by Guest Writer
(see all)