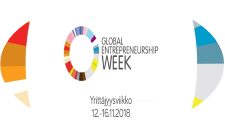 GLOBAL ENTREPRENEURSHIP WEEK
This year International Week program will be full of lot of fun things to do. Here are some hints about the program:
13.11.   9.00-12.00 Workshop on the communication aspects of digitalization for students (357)
13.00-16.00 CV and personal branding workshop for students (142)
14.11.   11.00-12.00 International food tasting (students prepare snacks and delicacies of their home countries (main lobby)
12.30-14.00 Kilroy company lecture (357)
18.00-19.00 Fashion show (by our fabric and costume design students)
15.11.18   Job Fair (9-16 in Paja)
8.30-10.00 Organization and Leadership in international Context – Guest lecturer Kim Maya Sutton from JADE UAS in 357
10.15-11.45 Challenges of internationalization for a company´s HRM – Guest lecturer Christina Hans from Jade UAS in 357
12.30- 14.15 Benchmarking – Corporate Incubators and Accelerators in Germany – Guest lecturer Prof. Dr. Helmut Kohlert (Esslingen UAS) in 357
16.11.18   Job Fair (9-12 in Paja)
SEE YOU ALL THERE!! DON'T MISS IT!!!

Latest posts by Elizabeth Akinlabi (see all)