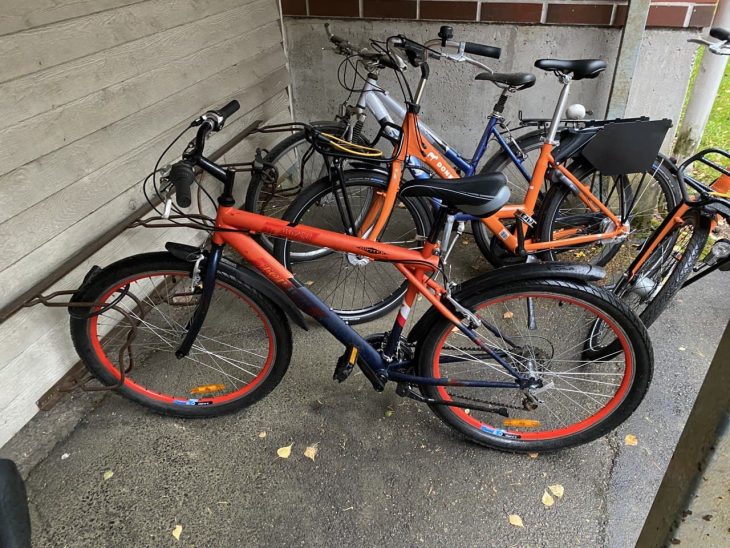 How to return stolen bike?
The accident happened on 9th of September on Jukolantie 17 when one of the Xamk's student found that his bike, which he bought just the day before was stolen.

Prehistory
On 8th of September after studying day Nikita, who is studying on Digital International Business course, bought his bike in second-hand shop or "Kirpputori" for 65 euros. When he came home, he locked his bike and waited the next day to try his new purchase. However, in the next morning he didn't find his bike on the place where left it.
– "Can you describe how it was?"
– "It was new, orange bike with big for its size wheels, I have ride it only ones from shop to home".
– "Did you lock it?"
-"Yes, the bike had two lockers and both of them were stolen too"

What happened then
Fortunately, he had subscription to Donkey Republic, so he didn't miss his lessons. The only thing that he could do is go to police to make a crime report. We asked him how can other students do this and which advises can he give.
– "First of all, you should go to police as soon as it possible, where police officer will make a crime report, then in about a week you can check your bike between other founded at the police warehouse and monitor tori.fi website, because it might be placed for selling there". To make a report you need your personal ID, passport or residence permit, police usually open from 8am – 4pm.


Conclusion
Finland is still one of the safest country, but anyway you need to keep your attention. Some tips from Nikita's experience might increase chances of new students in successful finding and some stories which had happy end are still exist, so this article really might be helpful in emergent situations, which we hope, will not happen with anyone.


Latest posts by Guest Writer
(see all)