Huge events are coming back
Since the pandemic has started in 2020 most public events has been cancelled and postponed until some improvement of the situation in the world. One of the first big events, which happened 29th of September in Oslo, Norway, was Nordic Economic Forum and, fortunately, students had an opportunity to join this event as viewers through online stream.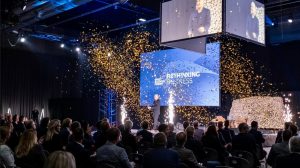 "What Nordic Business Forum is?":
Nordic Business Forum is the event originally organised in 2008 by two partners from Jyväskylä whose name are Hans-Peter Siefen and Jyri Linden. Nowadays, it is held in Helsinki, Stockholm and Oslo. There come speakers from different countries and most of them are professors, CEOs and lecturers from world top companies and universities.
"Nordic Business Forum 2021″:
Main event lasted from 10.35 to 17.30, however students came at 9 a.m. to make presentations about each speaker of this forum. Students were divided into 6 groups (1 group told about 1 speaker), and each 2 speakers from forum had a particular topic which are Reinvention, Culture and Trust.
"Speakers and students at XAMK":
First speaker was Stephane Garelli – Swiss Founder of IMD World Competitiveness Centre, his speech was quite fast and full of different graphs which made students concentrate fully on presentation, but it is completely connected with his idea that now you should be bold. The second was Alex Osterwalder who is a business expert and inventor of the Business Model Canvas, his performance was really interactive and it gave a breather students. After Lunch, student watched presentation of Jitske Kramer, she is known as Corporate anthropologist and keynote speaker from the Netherland. Cultural topic was finished Erin Mayer who wrote best-seller book "No rules rules" about Netflix works. After a small break, when students could drink coffee with milk provided by Kaakko in the main hall, they were listening to Rachel Botsman – Author and Trust Expert in Oxford University. And the last one was Nikolai Tange the CEO of NBIM who was the only person, who performed in a format of interview with previous speaker Rachel Botsman.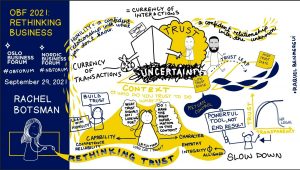 Credits: https://twitter.com/NBForumHQ/status/1443272037326274562/photo/1 (photo 1) ,
https://twitter.com/NBForumHQ/status/1443215742527328260/photo/1 (photo 2)
Latest posts by Georgii Iuzefovich
(see all)