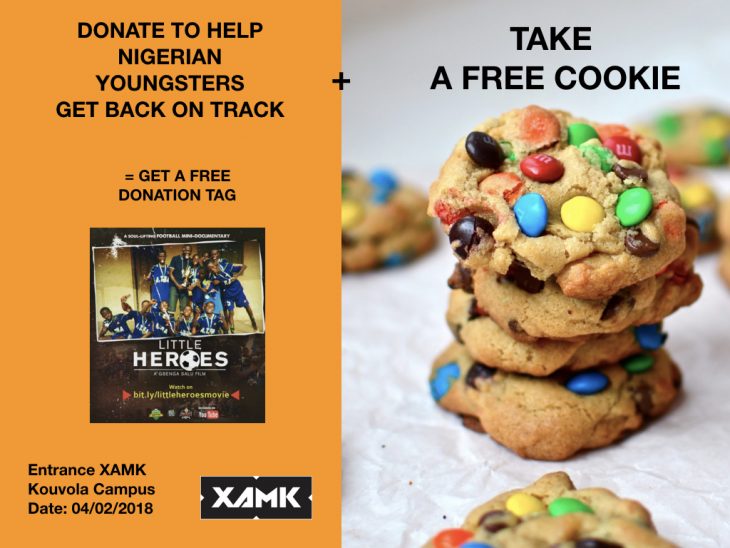 HUMANITARIAN PROJECT: FROM THE WORLD TO NIGERIA
Do you know that there are hundreds of children being left on the street every year in Africa suffering loss, love and lack of education? The situation is getting worse and worse. Therefore, take action now to help these children recover and pursue their goals of life or never. However, the big problem cannot be solved with a single solution, it requires constant efforts from a large number of people step by step, from small to large scales.
With warm hearts and desire to contribute – small but worth-commending, a group of young friends, who are degree and exchange students at XAMK, are voluntarily working on a humanitarian project to support Ablaze Football Academy which is a non-profit organization creating a home for Nigerian homeless boys and giving them a career such as football players. By doing so, less children will be victims of hooliganism and child abuse. The academy was established in 2013 with 8 kids but at the moment, the number
is more than 70. And they need funding in order to maintain their work.
On the 4thof February 2019, from 10 AM to 3 PM, there will be a booth in Main Lobby where you can donate everything such as clothes, football equipment and etc. You will get a free cookie hand- and heart-made and a donation tag in return as a 'thank-you' from the team.
"Great things are done by a series of Small things brought together" – Vincent Van Gogh.
Why don't we all do it together now? If you want to join them in baking and collecting donations. Please drop them a message via Insider office.
List of participants:
– Elizabeth Akinlabi- Nigeria
– Long Nguyen – Viet Nam
– Beatrice Cautero- Italy
– Eva Pacovska – Czech Republic
– Gloria Tazzini- Italy
– Ioana Cretu- Ireland
– Massimiliano Mercanti – Italy
– Migyo Choi – South Korea
– Timo Rantamaki – Finland
– Kweku Eshun – Ghana
Photo: provided by Elizabeth Akinlabi

Latest posts by Guest Writer
(see all)