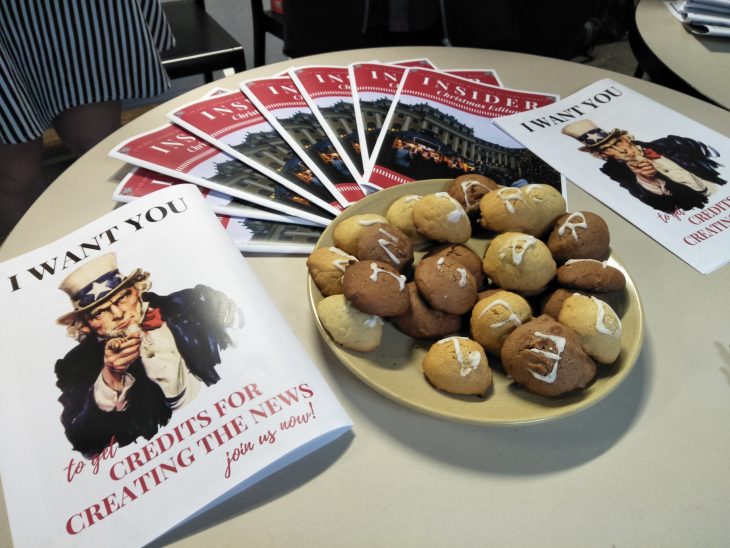 After a long time of preparation, Mikkeli reporters are glad to present an Insider special edition from Mikkeli. And also, the Insider welcome the new members from Mikkeli campus.
The special Mikkeli edition main theme is Christmas. In the first issue, Mikkeli team interviewed teachers about their Christmas routine, shared the recipes of vegan gingerbread cookies and DIY tutorials, and prepared an ultimate guide on responsible drinking.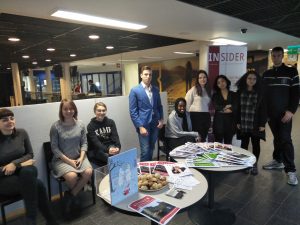 The editorial team members of the first issue are: Daria Chekalskaia and Anastasiia Abgarian (Mikkeli current affairs) together with Alisa Kivirian, Erik Parkhomenko, Hoa Le and Sara Zajac. In the plans is to publish separated weekly Insider in Mikkeli with a fresh design and new topics.
The first issue was published on 1st of December. And the Insider team came to Mikkeli to support the promotion of it! The new and old members of Insider had a great time together. 40 copies of Christmas special edition with the main 8th issue was distributed all around the campus. Together with Insider team, Mikkeli team reached the new audience like IT students in Mikpoli and Environmental Engineering students in A-building. The other goal of the promotion was to attract the new reporters to Mikkeli Insider team.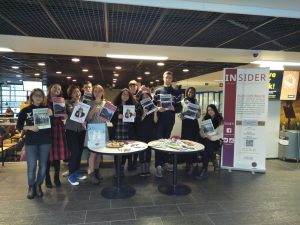 The promotion of the special edition took place in the main lobby in Dexi. The Insider team attracted new readers with amazing hand-made cookies and collected the feedback about the future of Mikkeli issues.

Latest posts by Anastasiia Abgarian (see all)