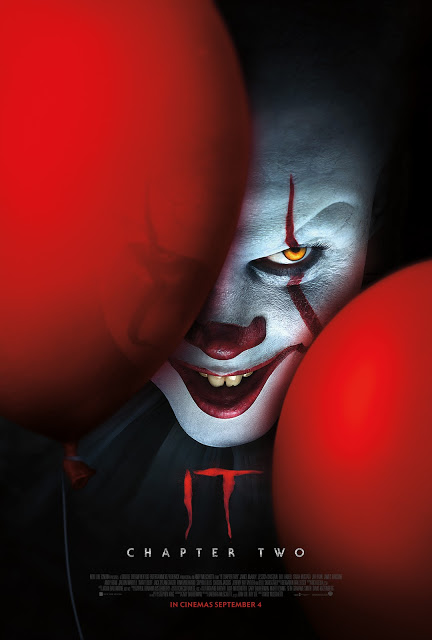 In 21st century, horror is the worst genre if you use the MMtMM ratio (movies made to money made). Horrors used to be better, scarier and it brought emotions out of you using not only sudden BOO! moments. Those movies would make you afraid frame by frame. So it was not "oops I shit my pants", after somebody jumps at a character out of shadow; it was rather "oops my pants are full" after you do that gradually for as long as the movie goes.
IT, the first part that premiered in 2017, was good in general. It wasn't that old school horror but it was a solid one, with plot, somewhat decent character arcs and it was, of course, scary. We mostly have Steven King to thank for it (see what I did there?). Now, the reports have said that Mr King was less involved in the sequel production, so what do we have?
We have those very kids from the 1st part, only they've grown up and moved on from their encounter with Pennywise. Well, it all happened twenty seven years ago. And now, after a mysterious phone call, they need to gather together again and stop the evil clown for good.
The biggest surprise here is performance by James McAvoy and Jessica Chastain. Knowing that the both actors are amazing, many people, author included, still felt that they might need a break after the horrible Dark Phoenix, where you could see that McAvoy just doesn't wanna act and Jessica's character didn't have anything to do, so she was kind of forgettable, too. However, here they proved that they are still amazing. The plot can be guessed after the first thirty minutes in, which is another problem that occurs to horror movies in general. It's still decent, though (just can't stop making those it-related puns). What's really amazing in this movie is a score. The music takes you back to the atmosphere of aforementioned old horrors, so we mostly have to thank Benjamin Wallfish, who didn't have any big titles apart from IT and Blade Runner 2049, for having to wash our pants after the film.
IT Chapter Two isn't amazing. It isn't very scary. Isn't captivating and it definitely won't be go down in history as a top tier horror movie. And yet, it's a pleasurable nearly 3-hour-long experience for viewers. Especially if they enjoy the genre.
Latest posts by Nikita Munenko
(see all)