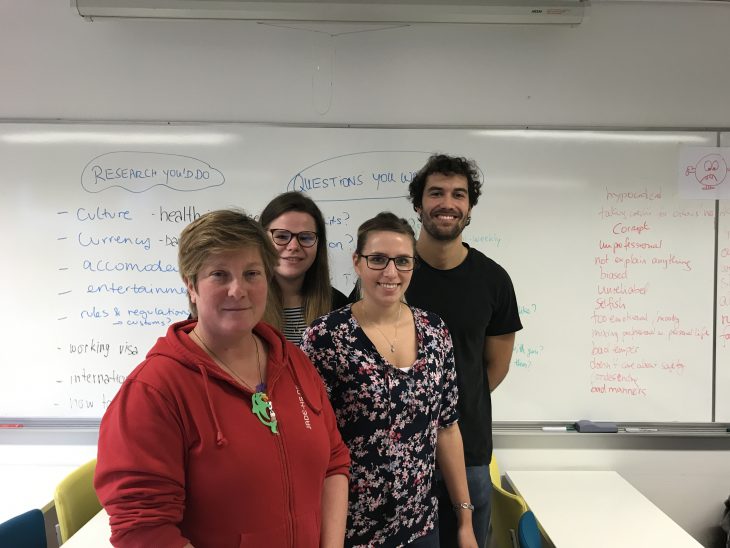 Lectures with Kim Maya Sutton
Being critical in thinking is one of the most essential elements guiding you to successes. However, it takes a ton of hours and efforts to master it. The method is simple, but it requires consistency as you need to ask yourself What/Why/How/etc constantly, from small things in life to bigger scaled issues. Sisu, if that is what you are missing, or you need it, go for it – practice makes perfect.
Participants were told to stand from South to North, West to East based on the countries where they are from. Then, they formed groups with different nationalities, as people react to a particular issue culturally-different. Groups on the left side discussed about what characteristics make the most horrible boss, while the other figured out how a person could the best-boss-ever. This method is called 'thinking headstand'. Whenever you are stuck in a problem, why don't you think reversely? It could be helpful and better since you can see a whole picture. After 25-30 minutes discussing, we shared our results and contributed more ideas.
We were discussing about expats – employees who are sent to work abroad in a period of time – and the role of HR manager in helping them to get familiar easily to new countries and be ready to handle tasks.
There were four (04) questions asked: What will expats ask/do researches for/prepare/bring?
In the end, we collected a huge number of bullet points for a person from preparation to final step. Expats can ask anything from their companies, as long as it is reasonable and affordable. Our lecturer Kim Maya once requested a chocolate fountain when she was sent abroad, and she got it.
In all cases, payment, duration, working schedule and dress code are common topics. Before departure, they should search for basic information about that country such as geography, weather, currency, language as well as culture knowledge and norms. Accommodations and working visa cannot be missed. Travel and working documents are the most important possession along with daily devices and clothes. Don't forget to bring some gifts from your home country as it can create a good first impression. From the view of HR manager, he/she can provide expats with information in advance. In some companies, carrying visas, accommodations and transportation are parts of HR department's tasks.
Personally, to handle culture shock and differences in a new country, culture pre-knowledge and carefulness are worth preparing.

XAMK International Business '17, Kouvola.
INSIDER wll be a limitless inspritation for your creativity and satisfaction to express yourself through photographs and words.

Latest posts by Long Nguyen (see all)