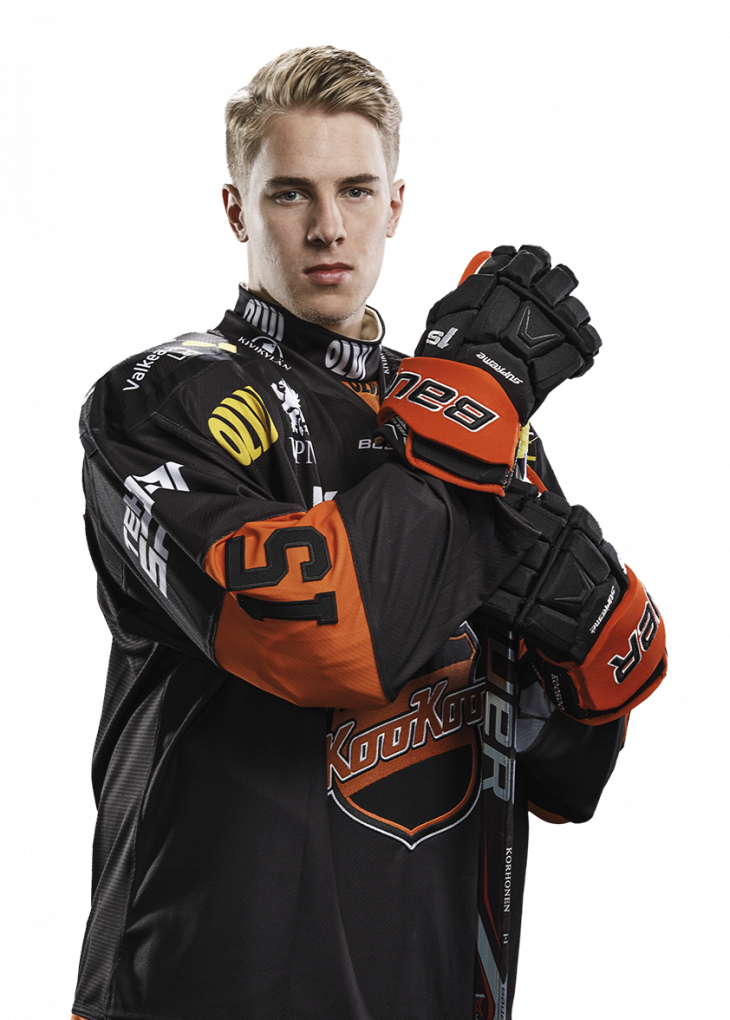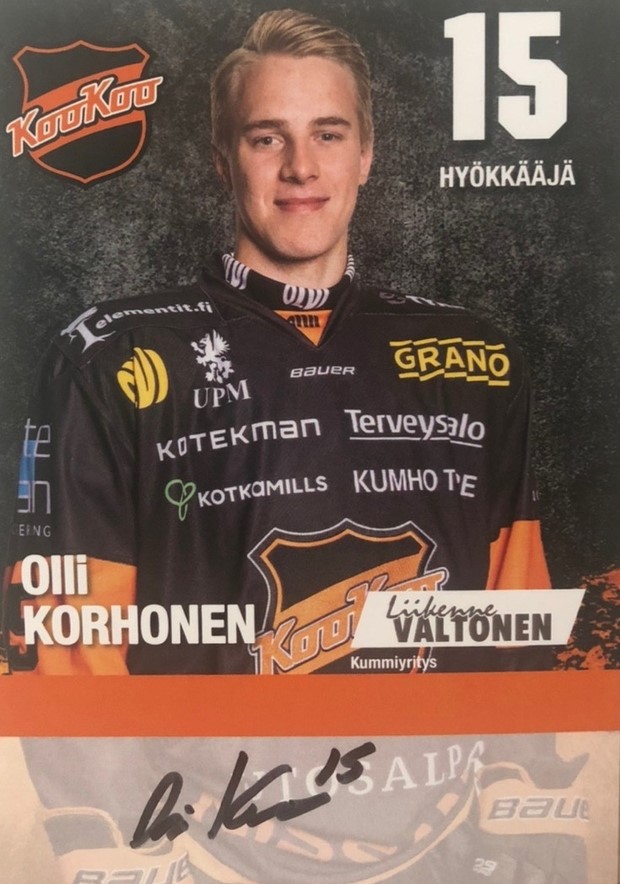 Continuing to keep a sports column in our magazine. I managed to communicate with number 15 of our team KooKoo midfielder Olli Valtteri Korhonen (15.06.1998 in Anyalankoski)
Olli said that he began his sports career in Inkeroinen (Kouvola district) at the club Aakoo. His first coach was an Estonian coach – Nikolai Kuhharuk.
L: What is word "hockey" associated with…
O: Passion, love, teamwork, fun, lifestyle
L: Olli, please tell me why you started playing hockey? How did it all start?
O: At first we played street hockey with my big brother and when he started skating and playing hockey I also wanted to do that so little bit later I started playing hockey as well and here we are.
L: How old were you when you start and how old are you already playing?
О: I was 5 years old, so about 16 years.
L: Was an idol (hockey star) (hockey player) in childhood? Do you have same now or not?
O: I have had plenty of idols to look up but Alex Ovechkin is the one I really looked up when I was younger and even today he's my favorite player. I have to say also my brother because he was the one I looked up as a younger and learned a lot of things from him.
L: What was the most difficult thing when you come and start play hockey?
O: Obviously all the basic skills like shooting, skating ans passing were difficult at start but as a young child you learn things fast so those were not really a problem once you learned the basics.
L: Do you have the most rememberable history related to hockey?
O: Playing first game in Liiga and scoring the first goal in Liiga are the ones I really remember most likely rest of my life.
L: Do parents support you? If yes, how? (for example, visited matches and td)?
O: Yes, they do and I'm really grateful of all the support I have gotten from them, it's incredible how much they have sacrificed so that I can play hockey. They're still very active supporters and watch my games always they can.
L: At which position did you play (forward, defender) in the beginning of a career and do you play in it now?
O: I tried every position but mainly I played as a forward and I still do. At one point I was very close to change as a defender but decided to stay as forward.
L: Do you have a happy number? Which? Why it is happy?
O: Number 15 is my special number. It is my first number in juniors and also my brother played with that number too, also it is my birthday day.
L: Tell a little about the houses of a hockey player (how the day schedule look like
O: It differences pretty much whether it's gameday or not. Gamedays we have morning ice and some briefing and meetings and then at evening we come back and start getting ready for the game. When it's not gameday we often have morning practise and some days we might have another practise at evening, but if there's only one practise then there's pretty much free time at evening to do whatever you want.
L: How do you tune up to the match, you (team) (music etc.)?
O: I do good warm up always so my body is ready, then I listen to music and do some visualization to get my mind focused for the game. So I have same rituals before every game so it helps to get into gameday mood.
L: Which music do you listen before the match? Is there a favourite song (band)?
O: I have a gameday playlist which I listen and there's maybe 400 songs so I put that on everytime before game.
L: What feelings thought arise when you playing a match? What emotions arise or what do you feel when you go on the ice?
O: Not really anything, you're just so focused on playing that there's no time and place for any thoughts other than the game itself. You feel a little nervous but at same time excited and pumped up. Lot of adrenaline in your body.
L: Are you a superstitious man with regards to hockey?
O: I used to be but not anymore because I think I'm in control of myself. So if I break my rituals it won't mean that I'll play bad just because of that.
L: do you always agree to the settings of the coach?
O: Whether you agree or not you have to be committed to follow the gameplan and systems, so it really doesn't matter do you agree or not.
L: Does every day have to use the skills and skills which hockey gives to you?
O: Yes, there's lot of useful skills that playing hockey has teached me. For example, hard work, dedication and teamwork. They are all essential qualities in everyday life.
L: What did you dreamed about when you only begin to play hockey?
O: I dreamed about playing in NHL (Washington Capitals) and of course also playing for Finland was my dream and it still is.
L: Describe yourself in 3 words?
O: Hard worker, learner, reliable.
L: At the end of our interview, what would you wish to young hockey players, who only begin their career? O: Remember to have fun while you play and practise, that's the most important thing.
Thank you so much for this interview!

Latest posts by Guest Writer
(see all)