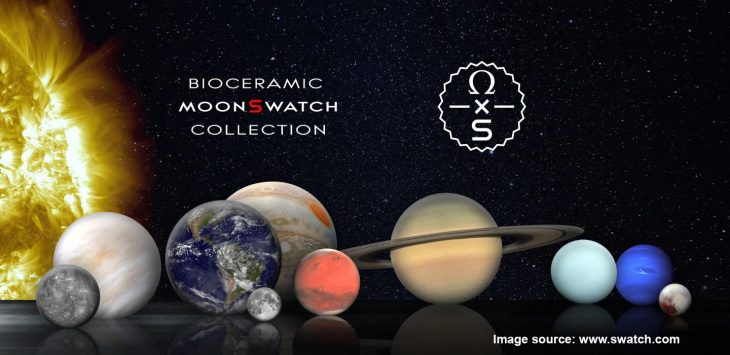 Marketing hit or miss – breaking the Internet
In recent weeks the Internet and social media went crazy with the pre-release information that Swiss watch manufacturers, Omega and Swatch, were forming a collaboration project called Omega x Swatch, or ΩxS, and bringing out a special edition Speedmaster MoonSwatch. Omega is well-known as a luxury watch brand with pieces ranging from around 2,000 EUR to well over 60,000 EUR, with the average prices at around 6,000 EUR. Many Omegas are mechanical or automatic, with a fair sprinkling of high-end quartz pieces. Whereas Swatch is one of the best-known brands for fashionable, fun, colourful, affordable (cheap), mostly plastic, quartz watches for the masses, with their average prices well below 100 EUR. However, it is important to note that Omega is actually owned by the Swatch Group, along with several other well-known watch brands, and that Swatch is credited with rescuing the Swiss watch industry at the time of the "quartz crisis" in the early 1980s.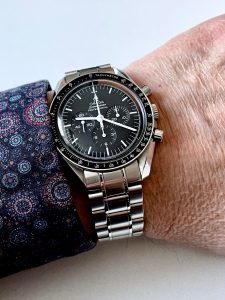 So, what is the "hype" all about? Well the Omega Speedmaster Moonwatch is an iconic watch in the industry. The Omega Speedmaster first appeared in 1957, a mechanical, hand-wound, no frills chronograph, with a simple black printed dial and baton-style hands, three sub-dials for running seconds, lapsed minutes and hours, a "plastic" Hesalite crystal, and a tachymètre-scale running around the bezel. Doesn't sound so "iconic" I hear you say, but perhaps when I point out that it was declared by NASA in 1965 as "Flight Qualified for all Manned Space Missions" and thereafter the first watch worn on the moon in 1969, and thus became the hereafter "iconic" Moonwatch, maybe now you understand. This particular watch (although it has gone through several interpretations and re-issues) currently retails at around 6,900 EUR. Also, many Speedmasters, especially the Moonwatch, usually see a favourable increase in value, especially in the used market. My own Moonwatch, shown above, is a 2018 version, and is faithful to the original in every respect apart from the updated 1861 calibre hand-wound movement.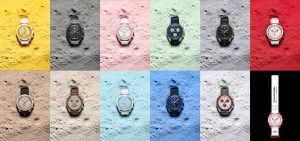 Now we come to the MoonSwatch. There are 11 colourful pieces in the collection, all named after heavenly bodies in our solar system, as shown above. First, we have the Mission to The Sun, Mercury, Venus, Mission on Earth, The Moon, Mars, Jupiter, Saturn, Uranus, Neptune, and Pluto. Each has a slightly different design element, some reflecting similarities to special edition Moonwatches, and each piece faithfully replicates the original Speedmaster in its size, style and functions – the most faithful being that of the "Mission to the Moon" version. The most outstanding feature of the MoonSwatch is the fact that it is made of what Swatch calls a BIOCERAMIC material that is a blend of ceramic and bio-sourced plastic, and the bright colours represent the chosen "mission". The watch is powered by an economic quartz movement and is fitted with a Velcro strap similar to the NASA straps available for Omega Speedmasters. Added to all of this the dial is printed with the Omega logo and name, the iconic Speedmaster name, and MoonSwatch.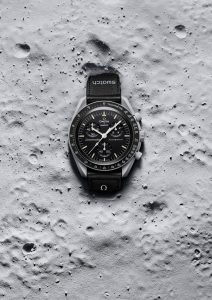 The launch of the product was undoubtedly a Swatch production, and Omega was there simply for the name and the Speedmaster reference. So why was the Internet in such a storm? Well, as you can imagine, such a collaboration was big news, a new line of iconic watches, added to this so many colourful designs in the collection, and the watch world was wondering what was going on, and then came the release price 250 EUR! Watch enthusiast were suddenly salivating over this news, but it was not all good. Swatch also announced that these pieces would only be on sale through selected Swatch stores around the world on 26th March and that the watches would be limited to two pieces per individual. This resulted in an Internet frenzy of finding which stores had been selected, and people begging others to go along to purchase on their behalf. On 26th March, social media from around the world showed scenes of masses of people and long queues congregating around Swatch stores, some with thousands of people waiting. Many people spoken to outside the Swatch stores have been reported as saying they did not even know what a Speedmaster or Moonwatch was, or even what was the link to Omega. Then it was also announced that there would be only around 150-250 watches available at each of the selected stores and suddenly panic set in, and it was obvious that so many people would be disappointed, especially as many had been queuing overnight. Within a very short time, Swatch stores also started announcing that due to unprecedented demand, sales would further be limited to 1 per individual, and then the stores suddenly closed as stock was cleared out, panic was setting in, and chaotic scenes were taking place.
As is the norm these days for any seemingly limited release of a new product, the "scalpers" – those individuals that buy newly released limited production products simply to resell at an inflated profit – were circling, and soon after stocks ran out, in under 10 minutes in some stores, MoonSwatches started appearing for sale online at hugely inflated prices, going for many times the retail price, some even being advertised for thousands of Euros/Dollars – and some gullible individuals even bought them!
Now we come to the main point – Swatch did not specifically announce that this would be any kind of limited edition in any way, they simply stated how the watches would initially be offered for sale. It turns out, that there will be unlimited production runs of all models and that they will also go on sale again in Swatch stores soon and even via the Swatch online store in the very near future – some sources say in the coming weeks. [Hmm, still undecided which "Mission" to go for… Ed.]
So, what can we learn from this? Well, the Internet is divided as to whether this was a total hit or miss for Swatch and Omega. For Swatch, on the one hand as a marketing ploy, it is a classic way to generate interest and create demand for a product. On the other hand, it left scores of potential customers very disappointed and unhappy with the company as they were unable to obtain any of the watches.
For Omega the situation is somewhat more complex. They had already got it wrong long ago in answer to the quartz crisis when they started producing quartz watches under their own brand. They were suddenly perceived as cheapening and watering down the brand quality, no longer seen as a luxury brand due to the perception of being similar to the cheap quartz watches coming out of Japan. Were we now witnessing a similar phenomenon? Were Omega going into the cheap plastic watch business? For watch enthusiasts, and in particular Speedmaster owners and connoisseurs, the sudden realisation that Omega Speedmasters might soon be seen as worthless due to the collaboration, was a horrifying prospect. In actual fact this was a panic response, and collectors are not really worried in the slightest. Phew!
Thankfully, all of this has now settled down somewhat, and people are beginning to see the whole thing for what it was, a simple collaboration between brands at both ends of the scale – affordable meets luxury. The Speedmaster MoonSwatch is a fun piece that celebrates the iconic Speedmaster Moonwatch, and doesn't take anything away from the original. In fact, it brings the Speedmaster closer to those that could not afford the Omega original or would not spend thousands of euros on a watch. The fact that many people could not tell the difference between a Moonwatch and a MoonSwatch might mean nothing at all.
It might be debatable whether Swatch (or Omega) had any idea of the frenzy such an announcement might make, or how the product would be perceived by the general public, watch enthusiasts or the industry as a whole, but it certainly broke the Internet.
Oh, and in case you were wondering, no this is not an April Fool joke!

Latest posts by Hugh Clack
(see all)