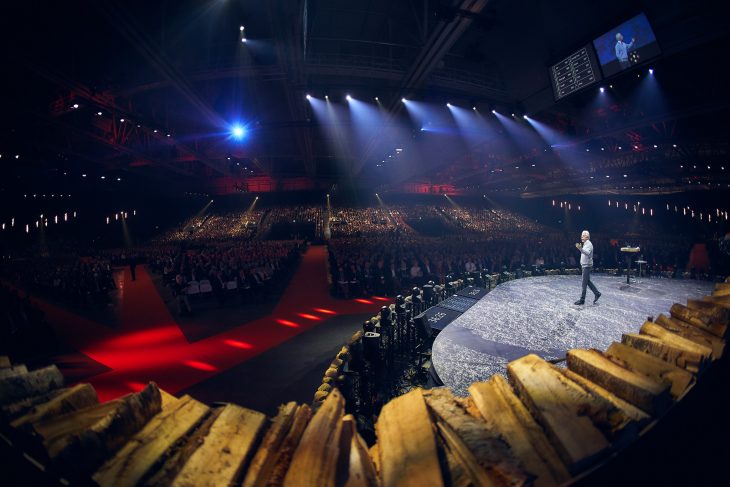 NORDIC BUSINESS FORUM 2018: THE ATMOSPHERE FILLED WITH INSPIRATION AND MOTIVATION
Welcome back to NBF2018 organized in Helsinki, Finland. Every year, there will be three (03) events in Norway, Sweden and Finland. About history, NBF was first launched in Jyväskylä, Finland with only 700 participants in 2008. Throughout 10 years working dedicatedly, the number of audiences is remarkably increasing. Last year, they drew attention for more than 20,000 people to attend as either seminar guests or live stream viewers. This year's theme was focusing on strategy, peak performance and AI (artificial intelligence), which are the elements will enhance firms' operating systems, maximize companies' values to their stakeholders and foresee what problems firms might face in the 3.0 Era. The guest speakers are specialists, professors or authors in their own fields. They all have same things are commitment and inspiration for themselves and others. The most prominent guest speaker of #NBForum2018 was the 44th president of the United States of America, discussing about the social, political and institutional aspects.
From my own experiences:
Firstly, I had the chance to visit this spectacular live stream event thanks to XAMK and our International Business lecturers as it was such a big investment for their students and staff. After two days with extraordinary knowledge and sharing, I am so motivated to think about my future. One (01) fact that I think every student, especially IB student needs to think of is: Purpose of Business is about to add values rather than to make profits itself. And success should be evaluated through the way companies improve other people' lives. Moreover, Susan Cain, the author of several psychological books and the co-founder of Quite Revolution, showed how introverts and extroverts can deal with each other. Introverts need to speak up early, talk more and do not curb your enthusiasm by starting to talk out loud to avoid misunderstanding. And extroverts should control your proactiveness a little bit and approach introverts 1-by-1 and give them advance notice to prepare. Marcus Buckingham once motived me by his speech. He told that if a person wants to success or at least find a right job, it is a long process with hundreds of small steps that he/she has to learn, fail and stand up again by themselves because NO ONE WILL DO IT FOR HIM/HER. And he/she should put love and caring into each step that they go through. I absorbed more than this but I hope you can feel it by attending the forum.
And, you know what, you still can watch the event again. Yes, AGAIN! Our school has the licence to reshow it for 30 days after the event. This is your BIG chance if you missed it last week by contacting Hugh Clack or Sara Czabai-Leppänen.
I wish you would have an astounding journey as mine. Thank you for reading my friends!
Photo credit: © Nordic Business Forum

XAMK International Business '17, Kouvola.
INSIDER wll be a limitless inspritation for your creativity and satisfaction to express yourself through photographs and words.

Latest posts by Long Nguyen (see all)